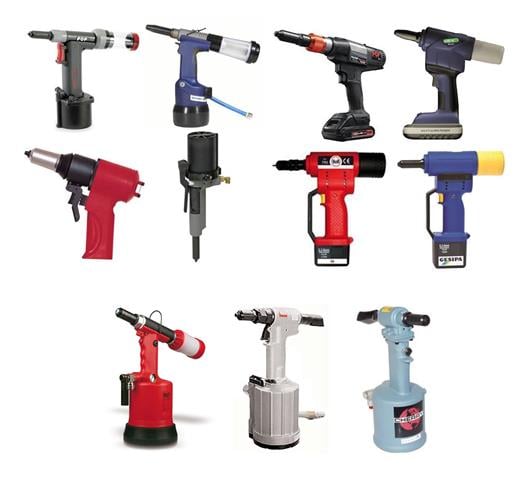 Time to check out the new generation of industrial Power Riveters, proven heavy-duty workhorse tools ideal for demanding product assembly, maintenance, general metalworking and truck-transit-rail industry rivet work.
Most engineers and installers of structural blind rivets would agree that the selection of the correct setting tools is critical for a strong joint. Among the main issues to be decided when selecting a riveting tool include power to weight ratio, traction power rating, air-pressure operating requirements, stroke length, ergonomics, and ability to adapt different nose assembly configurations to accommodate a wide variety of specialty structural rivets.
The expert technicians at Bay Supply are glad to help and offer advice on these and any other questions. Of course, tool clearances are also critical. Distances from wall or projections to the rivet centerline must be checked to determine if the tool will fit. In some cases, if space is tight the issue can be solved by using a nosepiece extension. Another solution may be to set the rivet from the unobstructed side where the tool can be placed flush with the work. Our installation systems experts are also able to suggest a variety of ways to balance tools, and accommodate mandrel (pintail) removal.
Let's take a look at some of the top choices in high-power tooling.
HUCK 2024
Designed for production volume fastening the Huck 2024 offers a number of outstanding features including an ergonomically designed handle, plated piston rods and a very long stroke. It is the ideal tool to enable one pull placement of long grip structural rivets like Monobolt®, Magnalok®, Hucklok®. An extended piston version (204L) is available and an optional vacuum assist pintail collection system (2024V) can be added.
HUCK 2022
The model Huck 2022 is a lightweight, high speed tool that is well-suited for both production and maintenance/repair applications where 1/4" and smaller diameter (standard and extended grip) blind rivets are used. The 2022 features an in-line, long stroke piston for production rates up to 30 installations per minute. The 2022's ergonomically designed handle and lightweight (5.4 pounds) combine to minimize operator fatigue. A universal nose assembly (99-3487) is available that will accommodate a wide range of standard and structural 3/16" & 1/4" diameter rivets.
Cherry GH-743
We at Bay Supply love "return-to-success" stories. For more than 60 years, Cherry tools have been specified and used by aircraft and industrial manufacturers and repair facilities throughout the world.
So, it is no surprise that Bay Supply has a long history with Cherry. Bay is the premier master distributor of Cherry industrial installation tools. Plus, Bay has been in business nearly as long as Cherry!
Cherry is again back in stock at Bay Supply
Now, after a hiatus from the industrial market due to corporate repositioning, Cherry Aerospace/SPS Fastener Division is back with an exclusive arrangement with Bay Supply. In fact, Bay Supply is again one of Cherry's largest distributors as well as a master service and warranty factory repair center.
Welcome the Cherry GHA-743
How do we like this Cherry riveter? Let's count the ways:
Engineered for heavy-duty truck/transit applications.
High-quality, rebuildable, investment-grade tool.
Still made in USA (Santa Ana, CA)
More than 50 years partnering with Bay Supply – sales and service!
High power to weight ration
Superb ergonomic design
Ergonomic air trigger button (low operator fatigue)
Easy priming system to enable recharge of hydraulic fluid
User serviceable
Long stroke for single pull operation even on long length rivets
Compatible with many blind rivets including: Cherry Q Rivet®, Monobolt®, Cherrymate (Avdelmate) ®, KTR®, Avex/Stavex®, and many other structural and multi-grip style rivets.
FAR RAC171
The FAR RAC171 is a modern ergonomic and powerful rivet tool that features a 1" stroke with over 4000 lbs. of traction power to easily install the most demanding structural blind rivets. It features a one-piece molded frame and front swivel air inlet for maximum operator comfort and durability. An external vacuum adjustment offers convenient air flow control for rivet placement and mandrel disposal. This allows the operator to install rivets in any orientation using one hand, and freeing up the other for assembly. Spent mandrels are conveniently collected in the bottle for disposal, encouraging a safer, clean work environment. Tools come complete with oil, replacement jaws, and nosepieces.
POP PB3400 Cordless
The new POP PB3400 brings features to a cordless 20-volt battery powered rivet tool that in the past were only available in larger pneumatic (air) powered tools. This high-speed tool has amazing strength and endurance, and will allow users to perform high strength riveting assembly without being tethered to an airline. Features and benefits of this new generation of cordless riveter are:
EASY:
Tool free, quick release nose housing and jaw guide removal
LIGHT:
Weight only 5.3 lbs, including 4.0 Ah battery
STRONG:
4,047 lbf Pulling Force, 1.181" Stroke
LONG-LASTING:
Powered by DEWALT XR Li-Ion batteries
Next time you need to consider the latest and greatest in durable and high-powered riveting tools, rely onBaySupply.com for the most comprehensive selection, best price, huge inventory and renowned technical service and support.