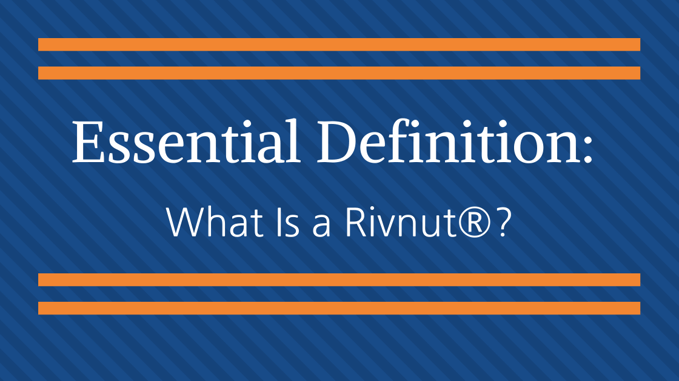 Here at Bay Supply, we provide a wide range of blind bolts to customers when they need a lasting, vibration-resistant joint. But what if you have an application where you need to screw in a bolt instead, either because of the nature of the joint or to make it easier to remove the bolt at a later time? For applications where you need a solid, threaded hole that can accept a fastener such as a bolt, you will need a rivet nut or RIVNUT®. Rivnuts were originally developed in the late 1930s by the BF Goodrich Company and sold under the trademark RIVNUT®. They are also known as blind rivet nuts or threaded inserts. The makeup of a rivnut is one piece that is threaded internally which is able to be anchored entirely on one side.
Rivnuts were developed specifically to install bolts in materials that ordinarily cannot accept a threaded bolt hole. Ether the hole wasn't drilled to accommodate a threaded joint or the material is too soft to accept a threaded insert without stripping. Rivnuts provide a secure, lasting rivet insert that takes the place of a threaded hole.
Fitting rivnuts is similar to installing blind bolts. Installation is accomplished from one side of the material. Simply insert a rivet nut into the hole and use a rivet nut tool to drive it home. The rivnut tool will drill into the rivnut to expand it and apply pressure at the opposite side, causing a bulge to form on the back side. Once the tool is removed, the rivet nut is securely fixed in place and can accept a threaded fastener.
For proper installation, the diameter of the rivnut needs to match the diameter of the hole for a snug fit. There also are various rivnut configurations, such as thick-wall inserts or nutserts, thin-wall inserts or threaded bushings, slotted-body inserts, and inserts with hexagonal, square, and ribbed sleeves to prevent the rivnut turning in the hole.
Why Rivnuts Are So Versatile
Rivnuts are preferred over blind bolts and other types of fasteners because they are so versatile. They are easy to install and create a threaded hole that can be used over and over again, making disassembly and repair easier. Rivnuts also come in various materials, such as steel, aluminum, and brass, so they resist corrosion and can withstand extreme conditions such as heat and cold.
Because they offer a wide grip tolerance, rivnuts can be used in almost any material, including steel, aluminum, and plastics. It is important to match the rivnut to the material and the application. For example, slotted-body rivnuts with a straight shank work well with soft materials such as plastics and wood, and rivnuts with a wide front-side flange will prevent push-through, especially with soft materials. Wellnut rivnuts have rubber shafts, which are ideal for sealing holes and handling vibration. There are also closed-end rivnuts that resist corrosion and are useful for applications where pushout is a concern, such as leveling the legs on heavy equipment.
You will find rivet nuts used in almost every type of manufacturing, including automotive, aerospace, furniture, solar energy systems, appliances, pools and hot tubs, and military equipment—basically anywhere you need to use bolts. Rivnuts are also more practical than self-tapping screws or inserts. For example, they don't require heat for installation, making them ideal for use with wood and plastic. They also can cut time and costs when used in mass assembly applications, such as factory production lines.
Choosing the Right Rivnut Tools
When working with rivnuts, it is just as important to choose the right installation tools as it is to choose the right parts. You want to choose a tool that has the right degree of power and that is designed for the task, whether it is part of an assembly line or portable for repair work. Rivnut installation tools are available as hand-powered tools, pneumatic tools, and battery-powered tools.
There are three basic types of rivnut tools:
Spin/spin tools insert the rivnut by fitting it on a mandrel, positioning the rivnut, and driving it home. The mandrel spins to form the bulge on the blind side, then reverses to complete the installation. Blue Pneumatic, Zipp Air Tool, and Marson, for example, are popular brands of spin/spin tools.
Spin/pull tools are similar to spin/spin tools, but you adjust the stroke length before setting the rivnut to for a cleaner installation. With a spin/pull tool, the pull distance is preset so the tool knows when to reverse once the rivet nut is set. Blue Pneumatic, Lobster Tools, and Honsel are some of the most popular brands of spin/pull rivnut tools.
Pull-to-pressure tools are similar to spin/pull tools, but rather than setting the rivnut to a preset distance, they pull until they reach a specific preset pressure. These types of rivnut tools are ideal for use with soft and fragile materials, such as hard plastics, where there is a risk of the rivnut installation fracturing or crushing the material. Some of the most popular pull-to-pressure rivnut tools are made by Gesipa, Honsel, and Atlas Tools & Machinery.
Bay Supply carries a complete line of rivnuts and rivnut installation tools. If you aren't clear on what type of rivnuts you need, our team of fastener experts can guide you and offer advice on the best parts and tools for the job.