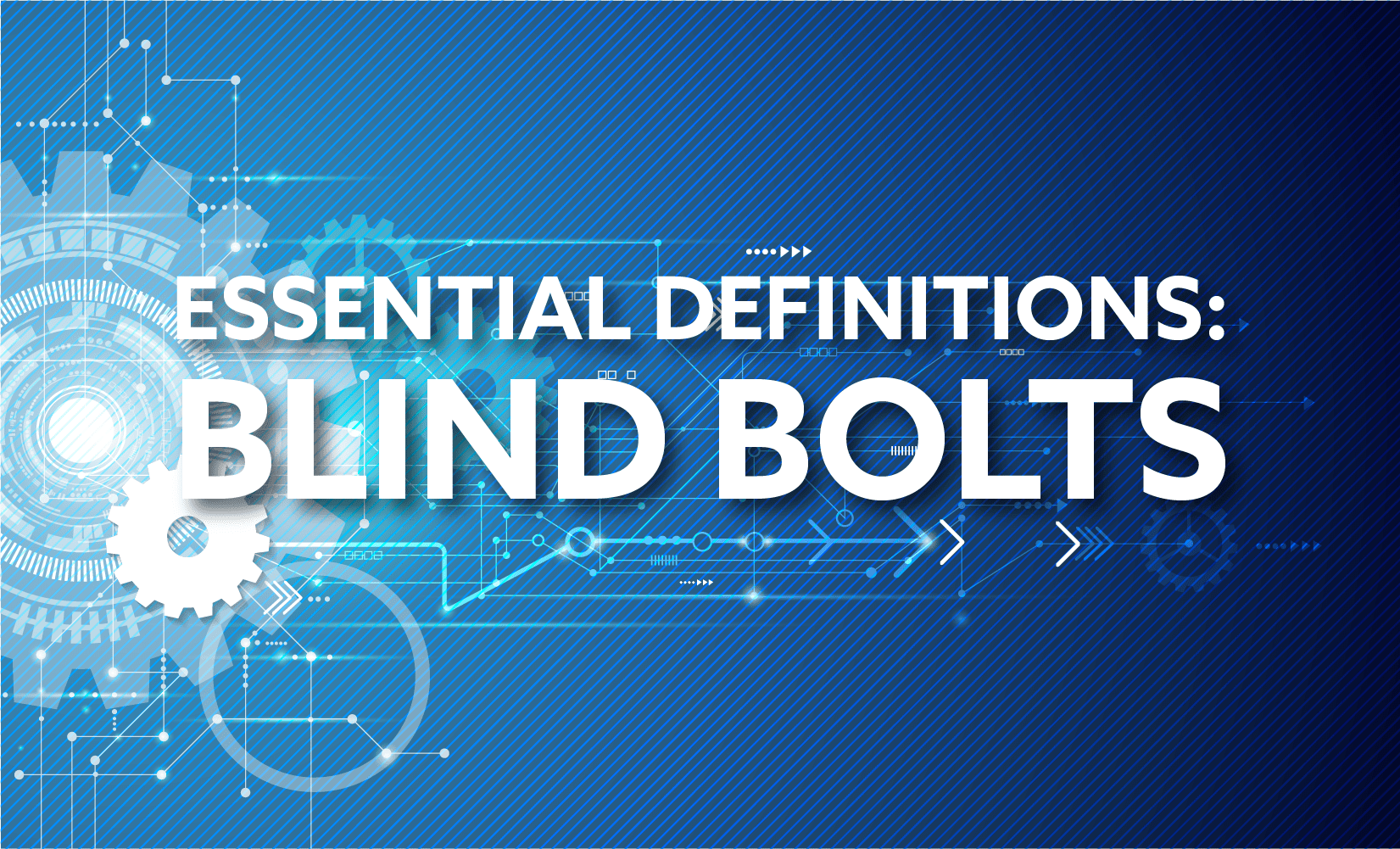 ---
What Is a Blind Bolt?
A blind bolt is a structural fastener that delivers more strength and adaptability than a typical rivet or weld. They were developed to forge a strong connection where conventional rivets or hex bolts were hard to fit or just couldn't do the job.
---
When you need a structural fastener that delivers more strength and adaptability than a typical rivet or weld, there is nothing like a blind bolt.
Blind bolts were developed to deal with an age-old problem: forging a strong connection where conventional rivets or hex bolts are hard to fit or just can't do the job. Blind bolt fasteners are incredibly versatile, largely because they can be installed from one side through pre-drilled holes without having to access the other side of your work to complete the lock, hence the name blind bolt. They are ideal for applications such as connecting box sections or even girder cavities, because they are quick and easy to install and provide superior strength.
The typical blind bolt consists of a steel pin, collar, and sleeve, and is installed using a blind bolt tool that functions in a similar fashion to a riveter. The blind bolt is inserted through the pre-drilled hole and the pressure on the collar creates a solid connection as the expander collapses to hold the blind side firm while the collar creates a seal on the side where the tool is applied. The beauty of the blind bolt is that it's fast and easy to install, has more strength than a rivet, and is easy to inspect in order to ensure that the bolt has been installed properly.
Vibration Resistance and Added Strength
Blind bolts are becoming increasingly popular in applications where fastener strength and resistance to vibration are essential. That's why they are used for airplane construction, automotive manufacturing, shipbuilding, mining equipment, construction, materials handling—any application that requires a reliable bond and longevity, even with the added stress of continuous vibrations.
The strength of the blind bolt is determined by the length of the fastener. The grip length of the bolt should be the distance from the underhead-bearing surface to the first thread of the shaft. The grip itself is the total thickness of the material that is joined using the blind bolt. The grip length should be a few thousands of an inch less than the actual grip. To determine the right bolt size, you can use special grip gauges that are inserted into the hole. Note that every blind bolt grip gauge is different and they are not interchangeable, so be sure to use a grip gauge that matches the blind bolt manufacturer.
Another one of the appeals of using blind bolts is they are quite tamper-proof, which makes them ideal for applications such as mass transit, public buildings, or anywhere vandalism could be a problem. The hardness of the core bolt makes them difficult to remove, although manufacturers do provide special removal kits. Using the proper removal kit makes it possible to extract the bolt without damaging the hole or the parent structure.
Two Great Blind Bolt Options
Bay Supply offers a variety of blind bolts for different applications. Here are some details on two of our most popular blind bolt products:
Huck: BOM
Bay Supply offers an extensive line of blind oversized mechanical bolts (BOM) from Huck. The Huck BOM comes in a variety of sizes, with steel shafts ranging from 3/16 inches to 5/8 inches in diameter. These are high tensile-strength fasteners designed for high-speed installation. The Hulk BOM also features a mechanical lock which creates a vibration-resistant joint and eliminates loose stems.
Avdel Avbolt
For heavy-duty fastening applications, the Avdel Avbolt is a structural blind fastener suitable for construction, railway, containers, mining, and even bridge-building. The Avbolt features a stem made of alloy steel and black oxide, and its sleeve and collar are made of carbon steel that is zinc plated with a clear passivated finish. The Avdel Avbolts are also available in diameters range from 3/16 to 5/8 inches.
If you want to learn more about blind bolts and how they can outperform rivets and welds, especially in tough construction settings, give us a call. You can count on BaySupply.com to offer a huge inventory of blind bolt products at a great price. Don't forget to contact our outstanding technical service and support team if you have questions.