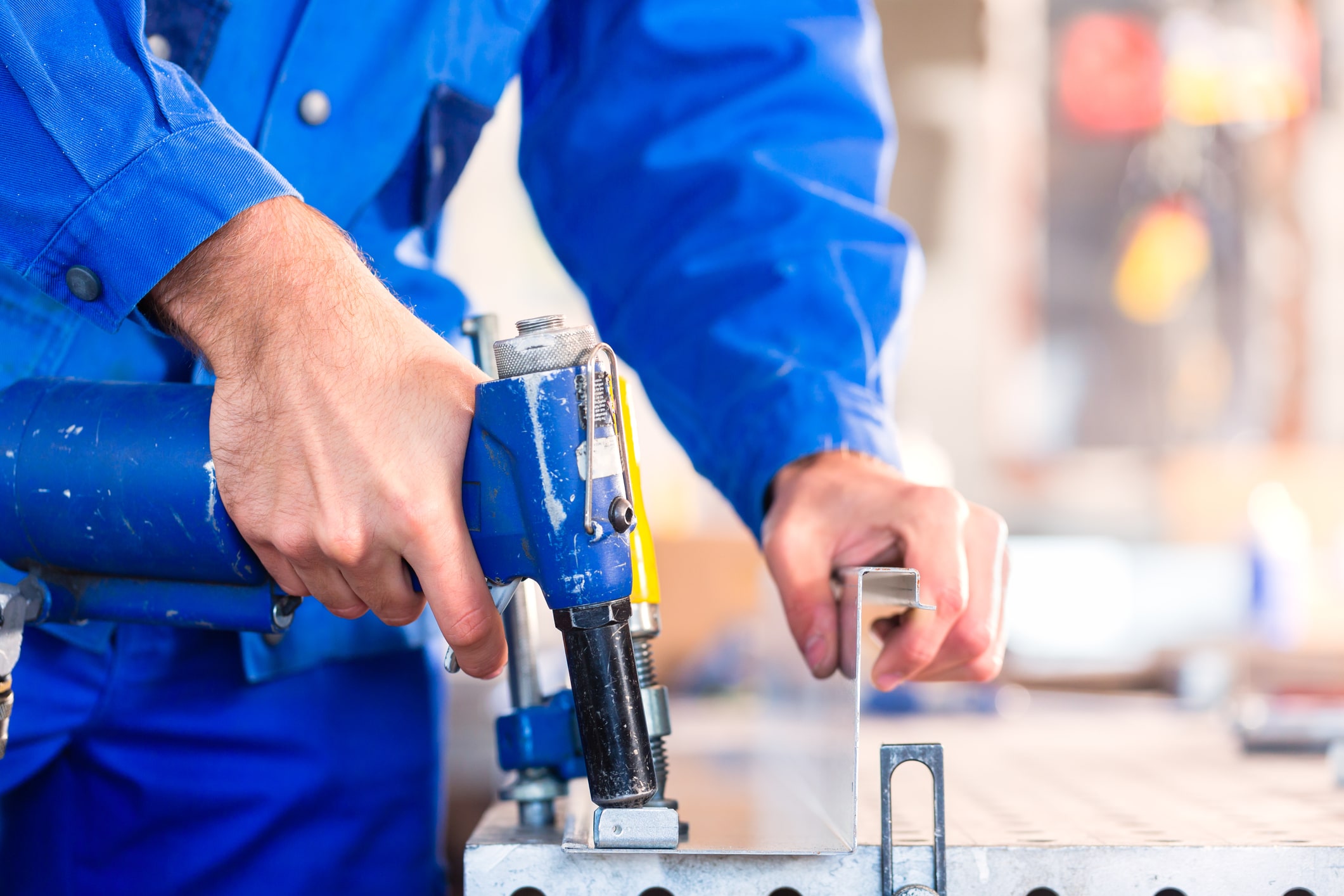 Just as it pays to use the right fastener for the task, it also pays to use the right tool. One of the most popular and most versatile types of fasteners is the threaded insert—also known as a rivet nut or sometimes a nutsert—which is fastened securely in place to create a threaded connection. Using a threaded insert instead of drilling a threaded hole offers many advantages, particularly when working with soft materials such as plastic and wood that aren't sturdy enough to accommodate a threaded hole.
Because a threaded insert is a specific type of fastener, it requires a specific type of threaded insert riveter to install. There are both manual and power-threaded insert riveters, and the tool you choose depends on various factors.
Threaded Insert Basics
Rivet nut inserts have distinguishing characteristics that make them stand out as fasteners and have an impact on the types of tools you should use to install them. Because they are threaded, they are designed to accept bolts or screw-in fasteners. They are typically used in softer materials (i.e., materials that are too soft to maintain a threaded hole). They also must be installed in such a way that they won't turn when the insert is installed.
Threaded inserts have many uses. For example, they are used in electronics to attach plastic circuit boards and in softwoods for furniture manufacturing. They also can be used to change from standard to metric threads, or they can be used in applications in which bolts must be frequently removed.
Threaded inserts come in different designs. Some have hexagonal shafts that keep them from turning. There are also round body inserts and come in ribbed and smooth designs. Some inserts protrude from the hole, and some are mounted flush with the material for a tighter surface fit.
Choosing the Right Riveter Tool
Just as there are many types of threaded inserts, there are a variety of threaded insert riveters as well. For simple jobs, you can use a manually threaded insert riveter, with which you set the insert, position it, and squeeze the tool handles to complete the installation. These tools come in various designs from leading manufacturers such as Gesipa, AVK, and Huck. Manual tools are great for simple repairs or when you only need to install a few inserts, but if you must install multiple inserts or are looking for manufacturing-grade tools, then you should look at powered threaded insert riveters.
When considering power tools, there are three basic types of threaded insert riveter designs:
Spin-spin tools are very simple to use. You place the threaded insert onto the mandrel, fit it into the pre-drilled hole, and drive it home. As the mandrel spins, it pulls the insert shank to form a bulge around the unthreaded portion on the blindside, continuing to pull until the insert bulge is fully collapsed. Once the insert is firmly in place, the mandrel reverses its spin to complete the installation.
Spin-pull off tools function like spin-spin tools, but the collapse of the bulge is preset to form a firm connection without crushing the material. This kind of tool is ideal for plastic workpieces and materials that are liable to collapse or crack.
Pull-to-pressure tools also function much like spin-pull-off tools, but instead of collapsing the blindside bulge to a preset length, they use a preset pressure, making it ideal for use with metals and hard plastics.
For heavy-duty or factory applications, pneumatic riveters provide the necessary power, deliver consistent performance, and are very fast. They also tend to be noisy because they use an air compressor for power.
Electric or battery-powered riveters are fast and versatile. The battery-operated units can be used almost anywhere and from any angle, and they make threaded insert installation very easy. You can even use a conventional rivet tool to drive threaded inserts if you have the proper rivet insert nose pieces.
When choosing a threaded insert riveter, consider how you plan to use it. Most riveters come with multiple nose piece sizes, so the fit of the mandrel is less of a concern than the weight and ease of use of the tool itself. If you are working in a shop or a fixed location, then a pneumatic tool may be best because you will get consistent performance and the pneumatic hose will be less of a concern. If portability is a factor, then using a battery-operated riveter will give you mobility as well as power. If you plan to use the riveter for long periods, then weight and ease of use are important factors. Also, consider the types of material you will be working with when choosing a power tool; a riveter with too much torque could damage soft or brittle materials.
With so many choices, it pays to speak with an expert when choosing a threaded insert riveter. The experts at Bay Supply are familiar with the various types of threaded inserts and insert riveter tools available and can help you make the right choice. You can also learn more about threaded rivets and riveters from our e-book, The Essential Guide to Threaded Rivet Nut Inserts.