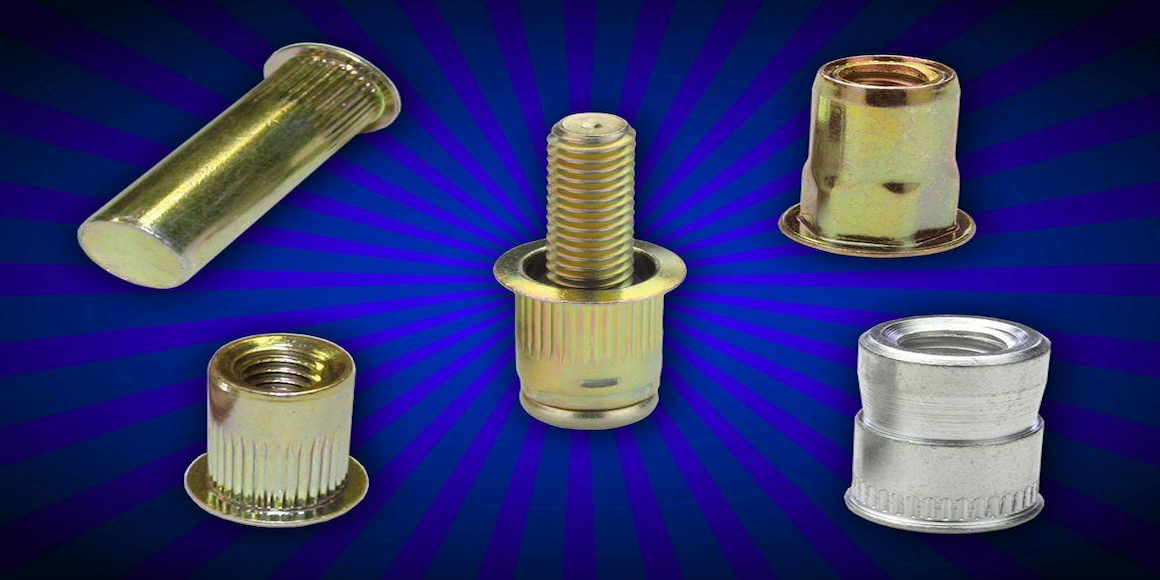 ATLAS is one of the best-known makers of fasteners, especially rivet nuts, and the Bay Supply Marketplace offers nearly 6,000 Atlas products. ATLAS has rivet nuts and threaded inserts for every industrial application, although they're most commonly used in automotive manufacturing and transportation.
To learn more about ATLAS and its innovations in rivet nut design, we spoke with Kristina Valko, the manufacturer's senior field applications engineer. She shared insights into the history of the company, where its fasteners are preferred for industrial applications, and what ATLAS sees coming in the future.
What is ATLAS?
Atlas is known for its rivet nuts, blind threaded inserts, manufacturing tools, and other fastener products. Bay Supply offers the ATLAS catalog of parts and products, including rivet nuts, fasteners, and tools for a range of very specific applications.
One of the company's biggest markets is automotive manufacturing. It provides fasteners for car and truck chassis, tractors, and so on as well as blind fasteners for industrial joins that were previously welded or in locations that are tight for other fasteners.
PennEngineering. acquired ATLAS Engineering Inc. in 2000. The company's headquarters are in Tallmadge, Ohio, and ATLAS maintains manufacturing plants in Malaysia and Winston-Salem, North Carolina. The Malaysian plant is the company's newest facility and was brought online in October 2022.
Much of ATLAS' full metric product line is made in Malaysia. The company produces metric products for automotive and transportation customers in Europe and the Americas. ATLAS also has an engineering team in Malaysia that designs specialty fasteners for automotive and other customers.
"We were able to set up our own facility with our own engineering and manufacturing teams," Valko said. "Having the engineering team in-house helps us understand what we can and can't do and gives us a big advantage in creating custom parts for customers. We're able to do head diameter changes, length changes, grip range changes, add wedges, add seals, and improve performance, all within the walls of our facility."
What are the new trends in ATLAS fasteners?
According to Valko, ATLAS is seeing a continued shift away from welding among its automotive customers, largely because of the rework required and the fact that welding isn't eco-friendly. Instead, automakers are moving to rivet nuts.
"They're eliminating loose hardware, and with rivnuts, they're able to go into painted or non-painted panels," Valko said. "And they're able to be installed in any dissimilar materials. So that's another advantage of using ATLAS rivnut parts: They can be installed in various sheet thicknesses. They can be used across a product as well as hard-to-reach places or when you don't have access to the backside of the panel or for the pressing motion that you'd need for a clench."
Migrating to rivet nuts in manufacturing makes for faster, cleaner assembly and eliminates loose hardware. It also makes setting up the assembly line easier and requires fewer skilled workers by eliminating welding.
Customers are also moving away from hexagonal fasteners to round-hole rivet nuts with high torque performance to simplify manufacturing. Customers are looking for more compact rivet nuts, and manufacturers are looking for thicker and wider low-profile heads that resist pull-through.
In addition to seeing more demand for metric fasteners in Europe and North America, ATLAS is seeing more demand for stainless and carbon steel metric fasteners. The company also produces rivet nuts in aluminum and brass for specialty applications. Heat-treating aluminum rivet nuts adds strength, so more aluminum fasteners are being used because they are lightweight, which is an advantage for electric vehicles (EVs). ATLAS also provides custom plating for its automotive customers to prevent corrosion.
Automakers are also moving to rivet nuts to save on paints and finishes. ATLAS rivet nuts can be installed before or after painting, powder coating, or finishing. When manufacturing using welds and clinches, the assembly must be completed before painting.
ATLAS also has the ability to test parts in-house. Manufacturers are looking for more specialized parts as the EV market continues to grow. New fastener parts are continually tested for performance and durability. The research and development team at ATLAS is constantly working on new composites.
Search the Bay Supply Marketplace for ATLAS products.
With the added manufacturing and development capabilities, ATLAS is ramping up its inventory to meet demand. Their goal is to have fasteners on hand for next-day delivery. That includes increasing the inventory available through the Bay Supply Marketplace.
If you are looking for ATLAS rivet nuts or fasteners for your production line, be sure to search the Bay Supply Marketplace. You can also request a quote.