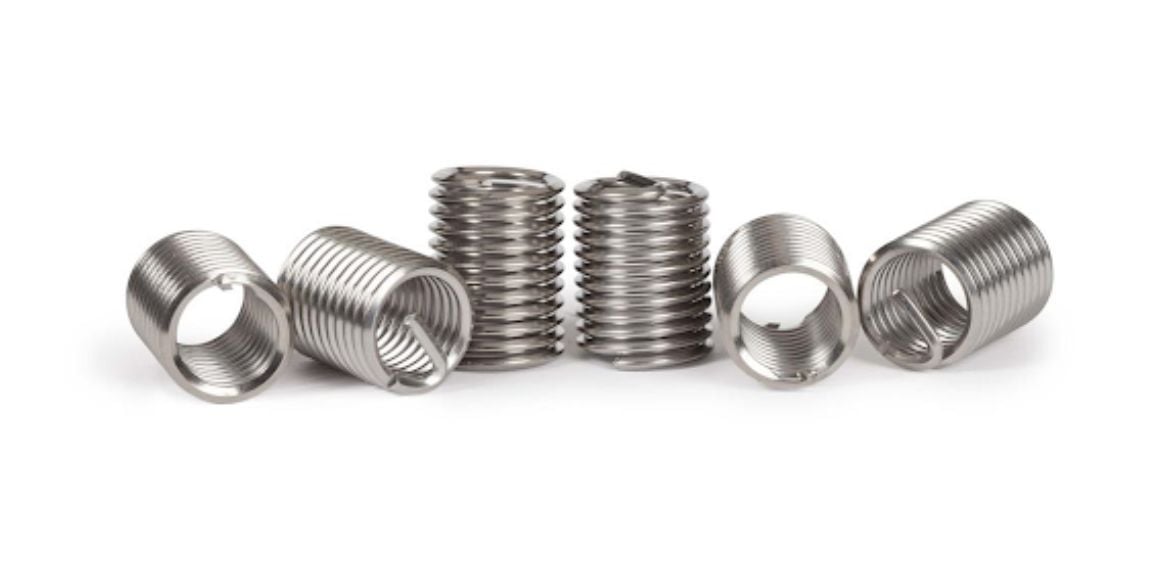 Helical inserts have become commonplace in manufacturing and repairs. Coiled thread inserts are an ingenious solution to deal with stripped holes or setting a bolt in soft materials. KATO Fastening Systems is one of the companies that has revolutionized helical inserts.
Helical coil thread inserts are specially designed inserts made of a coiled wire that screws into a hole to accept a bolt. They are ideal for repairing stripped holes or for use with soft materials where a bolt or screw-in fastener would pull out. When the bolt is screwed into the insert, the coils expand, creating outward pressure against the hole so there is no fear that the bolt will pull out.
Types of Helical Inserts
There are two basic types of coil inserts.
Tanged Helical Inserts
Tanged coil thread inserts have a tang on the end of the coil at one end that protrudes into the center of the coil. This tang is gripped by the setting tool and used to screw the insert in place. Once the insert is set, the tang is removed.
Tangless Helical Inserts
KATO was the first company to manufacture a tangless coil insert. Rather than using the tang to screw the insert in place, tangless inserts have a notch in the coil. The insert tool uses the notch to screw the insert in place, which makes installation cleaner and faster.
KATO parts include a variety of tangless coils, tools, and other types of fasteners designed for different applications.
How KATO Became the Leader in Thread Inserts
The tanged coil insert has been around since 1936. The patent for the first concept that was a precursor to a tangless coil insert was filed in 1944 by Otto Haas, but the initial production design didn't work well. Frank Cosenza and Albert Yamamoto received the first patent for a tangless insert in 1985 while working for Rexnord Inc. In 1987, Kaynar had its thread insert patent accepted, but only KATO had the production capability to manufacture it. In 1993, all the patents for Rexnord's thread inserts passed to KATO.
Since 1993, KATO has been developing new designs and expanding its line of thread inserts. KATO's best-known parts are its CoilThread tangless inserts. KATO's tangless thread inserts are bidirectional and have installation notches on both ends. They are available in 0-80, 1-64, M2, 7/16-20, and 1/2-2o sizes.
In addition to threaded inserts, KATO makes the LockOne locking fastener, a hexagonal coil that prevents a standard bolt from loosening under vibration. This locking fastener is reusable and exerts a radial force on the bolt to prevent the nut from loosening.
The company also makes various insert fastener tools to install thread coils in different applications. KATO offers electric and air-powered installation tools, removal tools, gauges, taps, tang removal tools, and repair kits.
Typical Applications for Thread Inserts
Thread inserts are typically used with softer materials, such as aluminum, wood, and plastics. Inserts provide a convenient way to repair stripped screw threads and can be used in a hole that can no longer hold a bolt. When properly installed, helical thread inserts create a stronger bond than the original installation.
One everyday use for thread insert repairs is in the automotive industry. When the threaded socket of a head cylinder becomes stripped due to overtorquing or cross-threading of spark plugs, a coil insert can quickly solve the problem, providing a threaded hole that can be used again and again.
Thread inserts are also used with soft construction materials, such as fiberglass or wood, where extra strength is needed. Helical coils are valuable in boat building, for example, to create threaded holes that won't pull out. They are used in construction to provide a lasting joint for wood or concrete.
You will find thread coil inserts used in various industries, including medical equipment, telecommunications, data centers, electrical engineering, home construction, and metal fabrication. Helical coil inserts are commonly used in factory equipment, automotive, aerospace, and other applications where vibration can loosen fasteners. Thread inserts are extremely vibration-resistant and won't loosen with continuous shaking.
Specifications for KATO Parts and Inserts
When shopping for KATO helical coil inserts, there are multiple criteria to consider. You want to check for insert size, tube thickness, thread size, inner diameter, and other specifications. Properties to consider include insert strength, corrosion resistance, conductivity, and operating temperature.
Choose the thread insert materials that are best suited for the task. KATO CoilThread inserts are cold-rolled from 304 stainless steel wire and hardened to a tensile strength above 200,000 psi. Other materials are also available. Each material has unique characteristics that are suited for various applications. For example, bronze is resistant to corrosion, so it is used in making boats, and titanium is lightweight and strong, so it is useful for applications such as airplane manufacturing and repair.
Thread inserts can also be ordered with special coatings such as film lubricants, cadmium, nickel, and so on. Each coating can be valuable to facilitate installation, resist corrosion, and for high-temperature installations.
KATO's helical insert tools are compatible with helical coils from other vendors. Stanley Engineered Fastening has its own line of helical coil thread inserts in tang and tangless configurations that can be installed using KATO parts and tools. Recoil and Bollhoff also have helical inserts that are compatible with KATO tools.
Whether you are looking for thread inserts or parts from KATO or another fastener vendor, the Bay Supply Marketplace offers a comprehensive catalog of thread fasteners. If you are a sourcing professional, distributor, or manufacturer, the Bay Supply Marketplace has something for you.