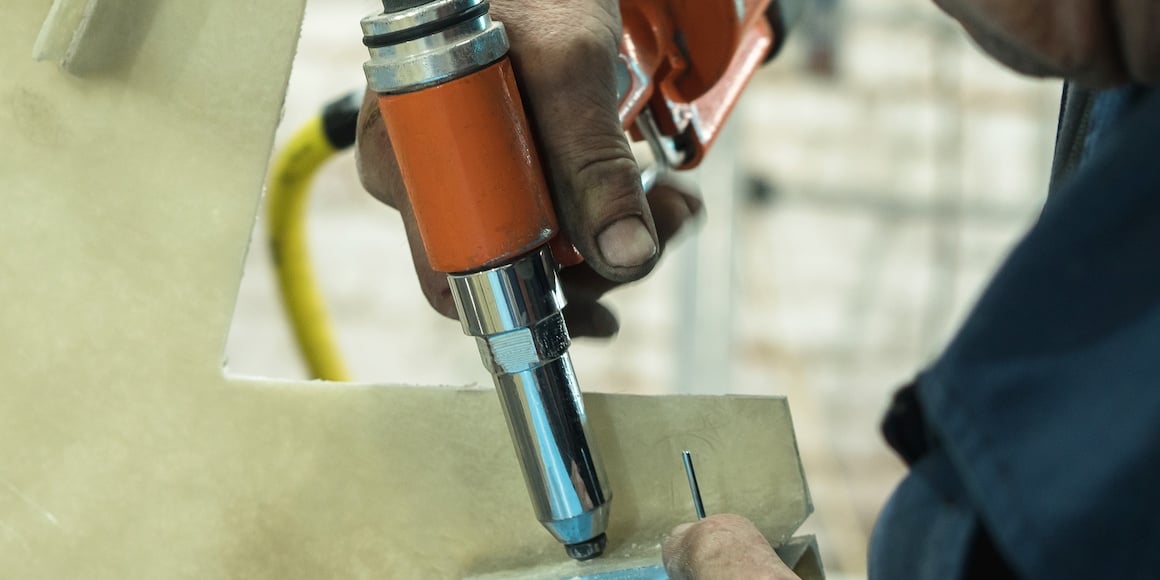 In terms of structural stability, the installation of the right fasteners often has a huge impact on product quality. Naturally, delivering premium results requires the appropriate development methods and materials.
Before starting a project, we ensure we're prepared with the knowledge and resources necessary for superior product performance. Numerous installations and applications require the use of rivets, a staple in the fastening supply industry.
The four main types of rivets are:
These rivets come in a wide variety of materials and platings. The most common base metals are steel, brass, copper, stainless steel, and aluminum, and the most common platings are zinc, nickel, brass, and tin.
Hollow tubular rivets are similar to solid rivets but have a shallow hole at the tip across from the head. Below, we'll explore the various applications and benefits of employing semi-tubular rivets, plus instructions on proper installation techniques.
What You Need to Know About Semi-Tubular Rivets
Installers typically prefer the tube rivet style for joints that require movement (known as pivot points). A few product examples that frequently utilize this type of rivet are:
Ducts
Ladders
Light fixtures
Brakes
Luggage
Binders
Electronics
Compared to solid rivets, a tubular rivet's distinguishing hole reduces the amount of force needed for installation by rolling the tubular portion outward; installing semi-tubular rivets requires roughly a quarter of the force needed for applying solid rivets. As a result, the use of tubular rivets is considered one of the fastest ways to rivet in mass production.
According to InTradeFairs, the type of equipment and tools used to install semi-tubular rivets range from prototyping tools to fully automated systems. The following common installation tools are listed from lowest to highest price:
Hand set
Manual squeezer
Pneumatic squeezer
Kick press
Impact riveter
PLC-controlled robotics
How to Properly Install Semi-Tubular Rivets
Although various equipment options exist for inserting tubular rivets, most large-scale robotic machinery expectedly carries a high price tag. Smaller-scale, manual installation is most often performed using a rivet gun (a riveter or rivet setter) or a basic hammer.
Installation Using a Rivet Gun
Your typical manual rivet gun operates using a conventional lever and squeeze movement. In commercial settings, the use of electronic, automatic rivet machines—often battery-powered—reduces stress on hands and joints. A pneumatic rivet gun leverages compressed air to install a rivet.
Below are some instructions for installing a tubular rivet using a manual riveter:
Step 1: Place and secure the rivet by holding the rivet gun against it.
Step 2: Hold the bucking bar against the rivet and strike the tail with it.
Step 3: Use the rivet gun to install the rivet (achieved with high-impulse vibrations).
Step 4: Inspect the rivet and ensure it's flush with the surface.
Installation Using a Hammer
Although it may take a bit more force and pressure, semi-tubular rivets can often be installed with the correct hammering technique. The appropriate procedure will ultimately depend on the project requirements, but the following steps outline the basics of this method:
Step 1: Position the rivet in a rivet set.
Step 2: Hammer the buck-tail of the rivet.
Step 3: Inspect and test the rivet.
Where to Purchase High-Quality Semi-Tubular Rivets
Suitable for pivot points, semi-tubular rivets require significantly less force to install than solid rivets due to their hollow design, making them an efficient option for mass production. With all the methods available for applying rivets, installers need to understand how to determine the best approach for achieving desired results.
Creating high-quality products is only possible with access to the proper materials. Luckily, maintaining your stock of rivets and other necessary hardware is simpler than ever with Bay Supply. Our wide variety of premium fastening resources and supplies provides manufacturers and installers with numerous options, ensuring they consistently receive exactly what they need.
If you're looking to source your fastening tools from a reliable partner that makes shopping simple, contact the team at Bay Supply to request a quote today.