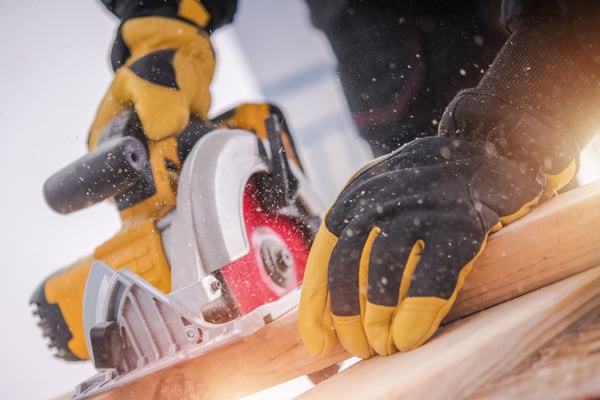 On-the-job safety is everyone's concern, but when maintaining a safe workplace or job site, it's up to management to implement policies and procedures to keep everyone safe. Much of on-the-job safety stems from common sense, but without guidelines or protocols, common sense is not enough. Everyone needs to adhere to an established set of safety rules to promote an injury-free job site.
The good news is that on-the-job injuries are on the decline. According to government data, there were 45,800 fewer on-the-job injuries and illnesses in 2017 than in 2016. Total recorded injuries fell 0.1 percent per 100 full-time employees. The same data shows that one-third of work-related injuries meant days away from the job.
The most prevalent injuries continue to be from overexertion or lifting; the number of these kinds of injuries rose from 3,250 to 97,990 in 2017. Overall, musculoskeletal complaints declined, but still accounted for 34 percent of manufacturing injuries.
Most safety violations and injuries are the result of taking shortcuts. Workers decide to bypass safety protocols to simplify tasks. Management adds longer hours or extra shifts to meet a deadline, which can lead to fatigue and carelessness. The best way to maintain a safe job site or workplace is to keep strict safety procedures and watch for hazards or safety violations. When you identify a problem, report it and see if you can fix it.
Here are eight common strategies that are recognized as best practices for on-the-job safety:
Hold regular safety meetings: Many construction companies and factories hold daily safety meetings to review current safety protocols and address new safety hazards that may arise. As things progress, the nature of the hazards will change, and it's up to the project or shop manager to use the safety meeting to review new safety procedures and changing regulations. The goal of these meetings is to help everyone keep safety top of mind, reinforce health and safety regulations, and encourage employees to be watchful.

Provide proper training: Be sure that personnel are trained on the latest safety protocols and on the equipment they use. New tools such as cordless rivet guns are being introduced to job sites to improve productivity, and every innovation or change should have the proper training to accompany it.

Use the right tools: In addition to training, be sure your employees have the right tools for the job. Innovations in tool design are resulting in a new generation of power tools that can make assembly faster and easier, but these tools may be unfamiliar to your crew. Be sure to use the right tools for the task and train everyone who needs to use them.

Utilize safety gear: Be sure all workers wear the appropriate safety gear, such as hard hats, protective clothing, reflective vests, gloves, and steel-toed shoes. If the work is outdoors, be sure they have proper sun protection as well, including nape protectors and lightweight, long-sleeve shirts.

Daily warm up: It's a good idea to limber up the body before undertaking physical labor. Get everyone to warm up with simple calisthenics before the start of the shift.

Maintain a clean worksite: Be sure to remove hazards that can accumulate in any workspace. Clean up scrap lumber and metal. Keep the area clear of trash, including discarded rivets and screws. Also, be cautious of tripping hazards such as cables and hoses.

Avoid fatigue: Tired workers tend to be more careless, so make sure the crew takes regular, scheduled breaks to keep them fresh. Also, avoid excessive overtime, double shifts, and night shift hours, if possible.

Encourage proper nutrition: Healthy eating habits promote stamina, improve your outlook, and give you the energy to stay alert. Encourage workers to avoid sugary sodas and energy drinks and provide water, fruit juices, and electrolyte replacement drinks to keep the crew hydrated. Also, encourage them to stay away from carbs and eat light, grease-free foods such as sandwiches, fruits, and vegetables.
If your company puts safety first, you can reduce on-the-job injuries and eliminate safety regulatory violations. Having a strong safety-driven work culture will pay off in a number of ways, such as less sick time, higher productivity, and more accurate production projections.
A safe work environment attracts more qualified workers and better quality contracts. Safety is everyone's concern, but the only way to promote a safe workplace is to take the right steps to build a work culture committed to employee safety.