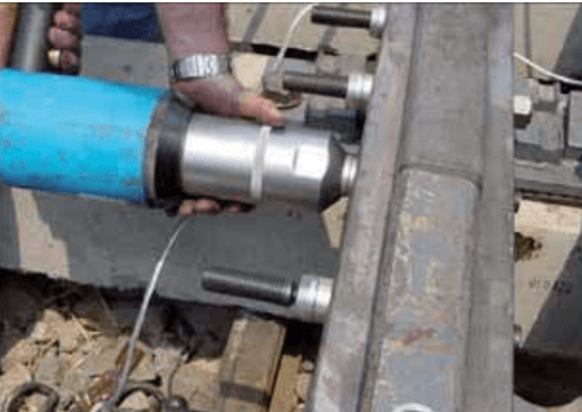 Bay Supply has been providing professionals with fasteners and fastener tools for more than half a century. During that time, we have been a proud distributor of STANLEY Engineered Fastening, which makes some of the best high-performance fastener tools in the business.
STANLEY's Long Fastener History
STANLEY Engineered Fastening has been around for more than 100 years. The company started by making eyelets for boots in 1888, and in 1934, STANLEY moved into the burgeoning aircraft manufacturing industry with a new type of rivet, the forerunner of the POP® rivet.
The POP rivet was first developed by the George Tucker Eyelet Company, which was later acquired by the United Shoe Machinery Corporation, and later still became STANLEY Engineered Fastener. The POP rivet was the brainchild of British inventor Hamilton N. Wylie, who developed a method of using tubular fasteners that could be installed from one side rather than having to access both sides of a workpiece. The design uses a pull-through mandrel that creates a secure joint on the blind side.
The POP rivet proved ideal for new applications, such as connecting the lightweight metal in airplanes. With the coming of the Second World War, production of STANLEY's POP rivets for the manufacture of planes such as the Spitfire increased, and more than 3 billion POP rivets were installed during the war. Building on its reputation in airplane manufacturing, STANLEY fasteners started to find new applications in automotive manufacturing, appliances, and home goods.
Avdel, one of the best-known STANLEY brands, got its start in 1936 as Aviation Developments, making speed fasteners for the aircraft industry. Over the years, the company's systems approach to fasteners revolutionized assembly processes, and in the 1950s, Avdel became one of the most reliable sources for fasteners and equipment.
Today, the POP and Avdel brands are the primary STANLEY fastener lines and include a diverse range of tools as well as fasteners.
STANLEY POP Fastener Tools
STANLEY's POP fastener tools are durable and reliable and designed for efficiency and ease of use when installing blind rivets. There are three basic types of POP tools:
POP hand riveters – STANLEY's POP hand riveter tools are for simple installation jobs and available in a variety of designs. The PS15 Professional Hand Plier, for example, is designed to set rivets between 4.8-5.0mm in diameter using one hand. The PS25 "Lazy Tong" is a heavy-duty riveter designed for light engineering applications. STANLEY also has two POP hand lever tools: the PS40 professional lever tool for light engineering and site work, and the PS45 lever tool for heavy-duty hand installations.
POP power tools – STANLEY also offers a full line of pneumatic and battery-operated riveting tools for POP rivets. The ProSet® line of pneumatic tools comes in various configurations. The ProSet XT1 is STANLEY's compact power tool, designed for ease of use and performance with a high force-to-weight ratio. The ProSet 2500 is STANLEY's mid-range tool, designed for setting rivets up to 4.8mm in diameter. Finally, the ProSet XT3 is a high-capacity riveter that can be used for installing breakstem rivets, lockbolts, and sealing plugs.
POP riveting systems – STANLEY also offers POP riveting systems for setting rivets at an assembly workstation. The POP systems are available with multiple setting heads, and there is a rivet presenter with a capacity to feed up to 1,000 rivets.
Avdel Fastener Tools
STANLEY has a complete line of power tools to install breakstem rivets and lockbolt. Here are a few of the most popular Avdel tools:
Shop for STANLEY Authorized Sales and Service
When shopping for STANLEY tools, you want to be sure to work with an authorized distributor who not only sells but also services STANLEY POP and Avdel tools.
STANLEY tools all come with manufacturer warranties, but when you use fastener tools for extended periods, they wear and can break. That's why you want to choose a STANLEY Authorized Distributor that is also certified as an Authorized Service Repair Center. When you rely on fastener tools as part of your business, you want to make sure that you can have them serviced quickly and reliably with genuine STANLEY parts.
Bay Supply is a STANLEY Authorized Distributor and Authorized Service Repair Center, and we stand behind every unit we sell. We also have a staff of professionals who understand STANLEY tools and fasteners and their potential applications. Our team of experts is available to help you find the right tool for any job or application. You can always contact us for a free consultation.