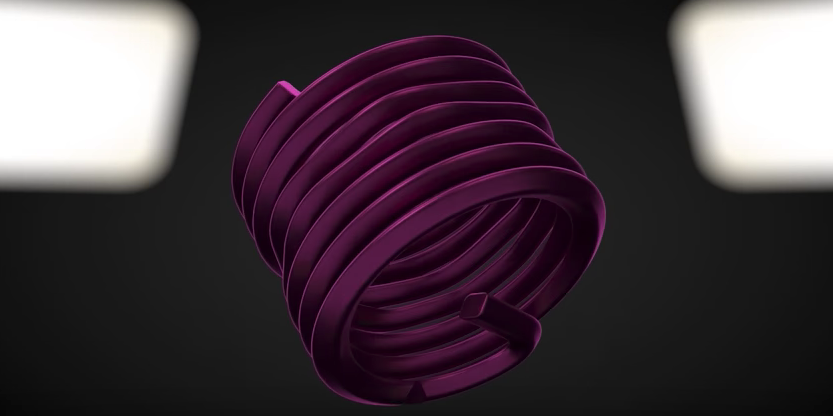 If you want to increase the integrity of your application, repair a stripped thread, or are working with light or soft materials, make sure you're using helical inserts.
Helical inserts are a coiled wire insert that is installed in order to create internal screw threads for accepting a fastener, essentially serving as a thread repair solution with endless applications. The diameter of the insert is wider than the tapped hole, so it compresses as it's inserted, creating a safe and secure application that retains locking torque over numerous assemblies. Even in environments with severe vibration or varying temperature conditions, helical inserts offer strong, permanent threading.
Additionally, helical inserts provide a convenient way to repair stripped threads in soft or light materials, such as magnesium, wood, aluminum, plastic, and zinc die castings. Even after frequent use, thread reinforcement with helical inserts prevents wear of the threaded hole, boosting the integrity of the application and lengthening its lifespan to create a high-strength, heat-resistant solution.
Helical inserts are known by many names, including screw thread inserts (STI) and the more common Heli-Coil®, which is actually the brand name of coil thread fasteners manufactured by Stanley Engineered Fastening, a division of Stanley Black & Decker.
These coil inserts are typically designed with a "tang," which is a piece of material at the bottom of the insert that serves as a catching point for the installation tooling and makes installation possible. After installation, the tang is broken off. However, to prevent the metal tang from falling into the chassis, tangless inserts can be installed with the help of special tooling. This makes tangless inserts particularly vital to automotive and electrical applications. With this in mind, there are four standard types of helical inserts:
Helical inserts come in a variety of materials and thread diameters to accept a range of thread sizes and have a wide variety of uses in countless industries, including:
Plant engineering
Electrical engineering
Aerospace industry
Transit products
Medical industry
Defense industry
Telecommunications
Automotive industry
One example of helical insert use in the automotive industry is engine cylinder head repair after the thread of a socket is stripped due to unintentional over-torquing or cross-threading of spark plugs. Helical inserts are also commonly used in exhaust systems, gear housings, hammer drills, printing presses, and more.
As the first U.S. distributor for Arconic (formerly Alcoa) Recoil® brand tangless coil thread fasteners, we also carry Recoil® tanged and Kato® tanged coil thread fasteners. Recoil® helically wound wire thread inserts are made of high-quality stainless steel and are cold-drawn into a diamond-shaped cross section and formed to the shape of a spring thread.
Whether you're ready to request a quote or you need expert advice on choosing the right helical insert for your application, speak with the experienced pros at BaySupply today.
*Cover photo from Arconic's Video