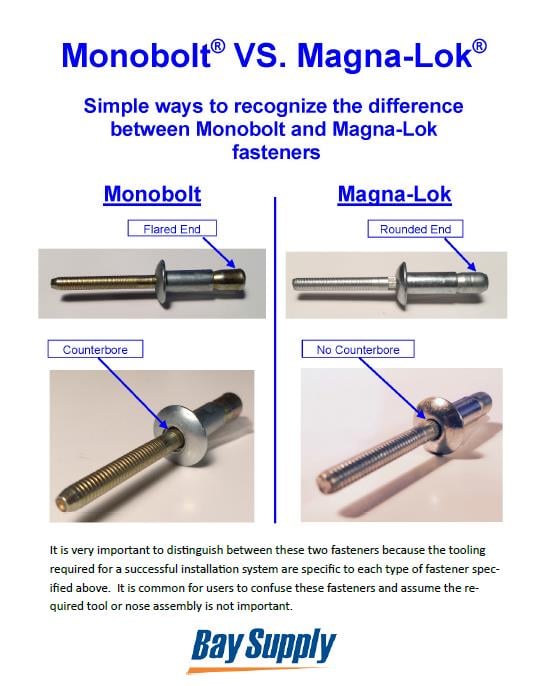 Our advice: Order the right fasteners and installation tips, but don't waste money on unnecessary tooling. (And Elon is doing everything he can to get those new Teslas on the road and his rockets in the air.) Bay Supply is in business to be your number one resource for engineered fasteners and installation tools. One reason we have been in business for more than 55 years is that we strive to help our distributors and end-use clients save time and money at every step.
Today we are looking at the installation and differences of two of our most-used fasteners, Monobolt®-style as compared to Magna-Lok® fasteners. While many already know that no special tools or nose pieces are needed for the Magna-Lok®, we understand confusion and errors can occur when faced with job deadlines and time pressures.
Know the Differences When Ordering
Unlike most blind structural rivets, the hole-filling Magna-Lok® does NOT require a special nose piece insert in order to be properly installed. The locking mechanism has been engineered into the fastener to eliminate tooling and operator error. The unique design creates an internal lock during installation that eliminates pin pushout by mechanically locking the pin to the sleeve. The internal 360 degree solid-circle lock ensures a flush pin break and a uniform blind-side footprint. To summarize Magna-Lok® selling points:
Unique circle lock feature means proper installation can be verified with a quick visual inspection
Can be installed with conventional tools
Unmatched installation speed
Fewer repetitive stress injuries
Vibration and moisture resistant
Available in steel, aluminum or stainless steel
The Avdel Monobolt® is a structural blind rivet with a locked stem and a positive hole fill for use in heavy-duty applications. The Avdel Monobolt® DOES require a special Monobolt® tip on the tooling to correctly install and internally lock the mandrel into the body of the rivet. Key features and benefits include:
Protruding head or countersunk style
Multi-grip capability
High shear and tensile strength
Visible lock for quick and easy inspection
Excellent hole fill via expanded body
Stem mechanically locks into body
Compensates for irregular, oversized or misaligned holes
Vibration resistant
Similar fasteners include Klik-Lok, POP® Ultra Grip® , Olympic Mega-Grip and Interlock®.
You Can Rely on Bay Supply
Bay Supply Product Specialist Anthony Trapani always asks clients if they are using a true Monobolt®, or Magna-Lok®. He notes "the Monobolt® has a flared end and counterbore. The Magna-Lok® has a rounded end and no counterbore. It's vital to use the correct terminology when ordering – and we help distributors choose the right product every day."
Anthony's colleague, Bay Supply Specialist Richard Nappi, points out "the Avdel Monobolt® and Huck Magna-Lok® are American brands, American designs! When the Monobolt® was introduced in the 1970s, repair times for trucks and trailers tumbled from 50 hours to just two hours. However, it's important to understand the correct Monobolt® nose tip is not used, the mandrel will not correctly lock and eventually the fastener will come apart. Do not try to install a Magna-Lok® with a Monobolt ® tip or vice versa; it can damage the tool."
Bay Supply stocks and sells rivets, blind bolts, lock bolts with and without pintails and lock bolts without pintails, practically any fastener you would need. Our expert technicians and product specialists are on staff and ready to assist you on product specifications, alternative fastening solutions, compatible installation systems, installation tools, parts and accessories to ensure success.