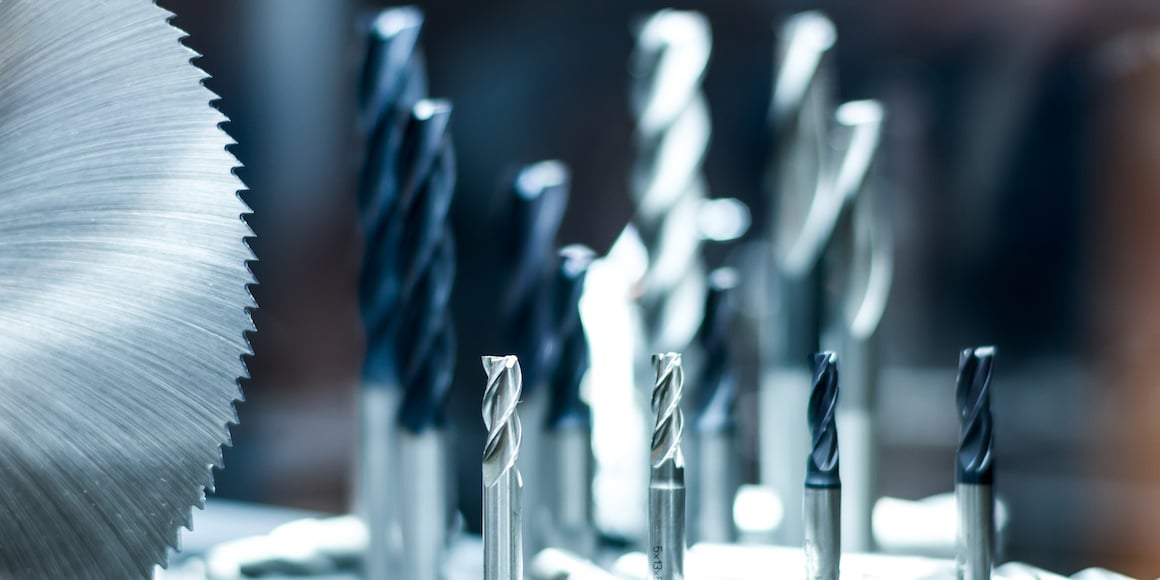 Whether you are a professional metal or woodworker or a hobbyist, you must have an array of cutting tools in your machine shop. Cutting tools come in all shapes and sizes, and having the right cutting tool makes any task much easier. Understanding cutting tools basics makes it much easier to match the tool to the task.
A cutting tool is any sharp-edged tool made of hardened metal that's used to cut, shape, and remove material from a workpiece. This includes chisels, hammer bits, masonry bits, hammer core drills, and other tools that cut or drill holes. Most cutting tools are made for specific applications, such as to cut metal, stone, concrete, or minerals. Any material you want to cut will have a unique hardness and require a tool with sufficient cutting ability to handle the task. Using the wrong tool, such as a wood chisel on stone, won't do the job and will ruin your tools.
This blog post provides a brief tutorial on cutting tools and choosing the right tools for the job.
Choosing the Right Cutting Tool Materials
Whether they are wedge-shaped to remove the material or have a sharp edge to shear during machining, you want to choose tools made from the compounds best suited for the job. Here are just some of the most common materials used for cutting tools:
High-speed steel (HSS) is typically used for working metals using rotary tools such as high-speed drills and taps. Most grades of HSS are sufficiently hard and extremely tough for most applications, such as slower drills for handheld drilling, stack drilling, or drilling deep holes. They also tend to be less expensive.
Tungsten carbide tools are extremely tough and ideal for high-speed drilling and cutting harder materials, such as stone. Cobalt drill bits have the highest possible transverse rupture strength, so they can be used for delicate jobs, such as drilling tiny holes in circuit boards without breaking. They are also extremely hard.

Ceramic cutting tools

are commonly used when there are higher temperatures, such as friction from a high-speed drill. That's why ceramic drills are ideal for sustained use.
Cubic boron nitride is extremely hard, heat-resistant, and chemically stable and is typically used to machine hardened steel.

Diamond-edged tools

are for particularly tough jobs. Diamonds are the hardest naturally occurring substance with a high melting point, making diamond cutting tools ideal for working with stone, brick, concrete, and glass.
You match the tool characteristics to the task to get the best performance from your cutting tools. Cutting tools need a high level of wear resistance so that they don't lose their edge. Cutting tools must also be tough enough to withstand pressure and friction without chipping. The tools must have a higher degree of hardness than the materials they are cutting. Matching the cutting tool to the materials is also a safety consideration, so you don't have issues such as drill bits shattering.
Differences in Cutting Tool Design
In addition to choosing cutting tools that are harder than the material they need to cut, you also want to select the correct geometry. Cutting tools have different angles, teeth, bit designs, and so forth. Using tools with the best cutting geometry for the job makes for an easier and cleaner cut.
Also consider whether you need tools made of stable or unstable materials. Stable materials, such as tungsten carbide, are naturally hard, so they won't change with heat from friction. However, stable materials also tend to be more brittle so that they will break rather than bend. They also use moderately blunt edges to avoid chipping.
Unstable materials, such as steel, are hardened using heat, making them less stable when subjected to friction. Cutting tools made from unstable materials tend to be softer but are also tougher and don't tend to break as easily.
Finding a Cutting Tool Manufacturer
Dozens of tool manufacturers make drills, countersinks, hole saws, sheet metal cutters, end mills, and other cutting tools. The two brands that stand out in the fastener industry are Champion Cutting Tool Corp and International Tool Manufacturing (ITM).
Champion has more than 10,000 cutting tools for metal, masonry, concrete, tile, and wood for construction, industrial applications, steel fabrication, mechanical, electrical, plumbing, and other industries. The company was founded in 1897 as the Frey Company and is now operated by the sixth Frey generation.
ITM has been in business since 1987 and offers a complete line of industrial drilling products. The company makes drill bits and tools for any material or application. The ITM slogan is "anything that makes a hole."
Bay Supply carries the full line of cutting tools from Champion, ITM, and other manufacturers. If you need help finding the right tool for the job, contact the experts at Bay Supply. We will gladly help you find the right cutting tool. You can also contact Bay Supply to request a quote for cutting tools or fasteners.