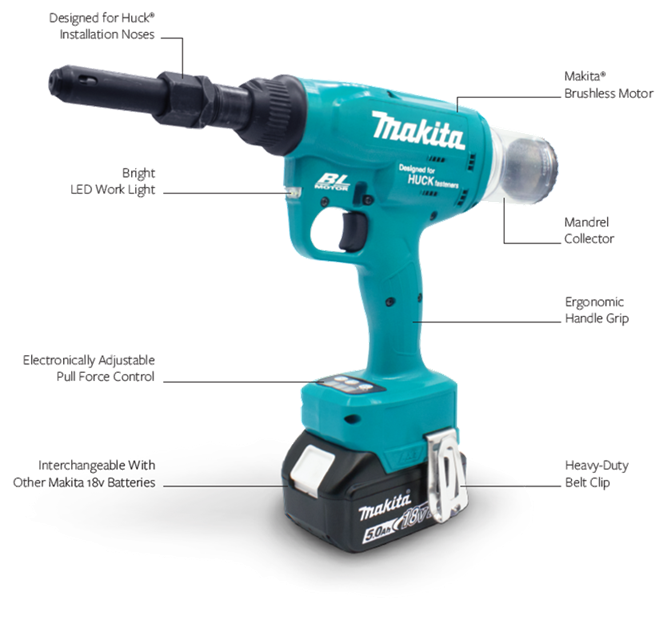 Sometimes, the job you're on doesn't require more power, but versatile power as well as mobility. If that's the case, Bay Supply will soon be offering a tool that is perfect for your needs.
Arconic and Makita have teamed up to produce the Huck Range Force Battery Tool. This incredible advancement in adjustable force lockbolt/blind rivet installation technology gives users industry-leading performance for practically any application.
Bay Supply is the first Tier 1 distributor in the United States to procure a large inventory of the Huck Range Force Battery Tool, which will be available for shipment in October. Here's more about this innovation in battery-powered, adjustable force installation tool:
Versatility and Performance
Arconic calls the Huck Range Force Battery Tool "a portable powerhouse for multiple applications and industries." This new installation tool offers versatility, expanded mobility, simplicity, and outstanding performance across a range of industries—including solar, transportation, and construction—and uses (as well as hobby applications) when a power source isn't readily available but force needs may vary from fastener to fastener. With its high pull force and long stroke, the Huck Range Force Battery Tool sets both structural and non-structural rivets, as well as all Huck two-piece lockbolts up to ¼ inches (excluding the Huck BOM ¼-inch structural blind fastener).
Additional features of the Huck Range Force Battery Tool include:
Electronically adjustable pull force control, from 0-4,500 foot pounds (20 kN)
Designed for Huck installation noses
Cross-compatibility with other Makita 18-volt batteries
Specifications of this new tool are:
Capacity: 3/16-1/4 inches (4.8-6.4 millimeters)
Stroke length: 1.18 inches (30 millimeters)
Weight: 4.8 pounds with a 1.5 Ah battery; 5.5 pounds with a 5 Ah battery
Battery pack: 18 volts, li-ion, 5 Ah
Recharge time: Approximately 45 minutes
May the Range Force Be with You
The Huck Range Force Battery Tool will be available in October, and Bay Supply is taking pre-orders now so you can be among the first to own and use this innovation in adjustable force installation technology. We are also offering a low introductory offer for this tool. Contact us and request a quote to see how much you can save.