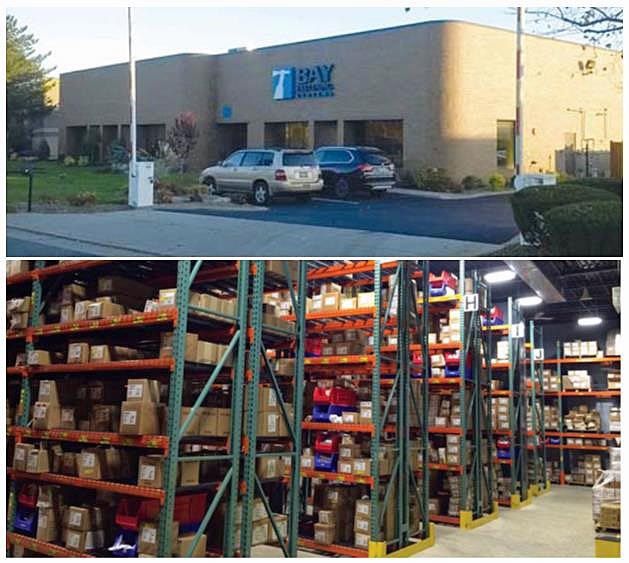 Placing the Customer First -- right from the Start -- has made Bay Supply the authorized Master Distributor for so many of the top brands in engineered fastening systems & tools.
Going Forward, with a Look Back
It's not just the company you keep. It's the company you build. It's about having the right people working as a team with a laser focus on service and always going the extra mile. It's about company pride and offering the highest quality products from all of the top brands.
Now, take that customer-first philosophy along with over a half-century of industry knowledge and technological leadership all working together, driving the company forward.
Welcome to BaySupply.com, the world's largest engineered fastener online resource and a division of Bay Fastening Systems, Inc.
Clifford Bernard, President of Bay Supply and Bay Fastening Systems, is always pleased to discuss your business and product needs. He is just as ready to discuss how his company has grown and adapted to become the leading authorized Master Distributor of the top brands of riveting and engineered fastening systems and related installation tools.
Celebrating 55 Years
"Bay Fastening Systems, was founded in 1962 by my father, Al Bernard, who was a true pioneer in the engineered fastening and distribution business," Cliff explains. "It was a time when sales were conducted by walking the local streets to build customer relationships and trust. My dad happened to be a naturally gifted salesperson. He knew to build that trust you need knowledge and confidence; and never take something for granted. He also knew that he had to offer the highest quality products from all of the top brands – a strategy we adhere to today."
Cliff continues, "Bay Fastening developed strong roots in Brooklyn, New York, with a basement warehouse below the small company office. With Al's commitment and vision, Bay continued to grow until every possible space was filled! In 1966, he moved the growing business to Garden City Park, Long Island, NY.
"Of course we saw the industry trends and changes. Our business had some new challenges. Manufacturing faced decline for several factors, and this resulted in a decline of prospective customers. I came to the conclusion that large inventory and quick availability are the keys to success. When I succeeded my father, I knew we had to change the business model for Bay to grow. We shifted focus to serve the supply chain needs of fellow distributors within the industrial supply industry."
In 2010, Bay started to reorganize operations by investing heavily in new technology to support and streamline operations. New operating systems were put in place and the company began data farming in anticipation of building one of the largest online resource portals for B2B commerce in the modern industrial supply industry.
The Big Step to BaySupply.com
Cliff Bernard enthuses "In 2012, Bay announced the launch of our online B2B business portal, BaySupply.com. Our 'baby'. We established relations with distributors located around the world and consolidated the global operation to serve partner manufacturers with global distribution. BaySupply.com is now the industry standard for engineered fastener distribution and tracking."
In 2014, Bay Supply purchased a new facility in Farmingdale, New York, where the company continues to operate and house a multi-million dollar inventory of all the top brands. When you need an item, Bay usually has it and ships in out within 24 hours. .All shipments are free with a $99 order or more.
Always Moving Forward, Offering the Largest Inventory of Quality Parts From All of the Top Brands
Cliff laughs, "Well, it seems it's always about the future, the present, AND the past! We are always forward-thinking, embracing and improving on technologies. Most importantly, we put the tech to work for our customers, to help them build profits in a tough business. Of course, none of this works unless our people are the best, our engineers, technicians and customer service team helping our customers with solutions every day (and sometimes night.) Their depth of knowledge is a major benefit for our customers.
"The past can be right here, as well. We've stocked and cataloged many still-in-demand parts from the Sixties, Seventies, Eighties to today. If our clients want it, we can get it. We warehouse thousands of fasteners, tooling and service parts in every category, so you get the exact product needed."
Cliff is excited about this year, ticking off big plans. "Our portal www.BaySupply.com rollout continues to be a big deal, but it's not our only news. We offer new threaded insert products, Bay Supply exclusives. We're doing more corporate partnerships to better serve domestic distributors, and international partners, as well. Our product footprint is being broadened with at least ten new categories and more installation tools.Bay Supply is a leading international Authorized Master Distributor of rivets, Huck® bolts, threaded inserts, coil thread inserts and aerospace MS/NAS rivet nuts. Leading brands include: Stanley Engineered Fastening, POP, Avdel, Huck, Marson, Recoil, Gesipa, AVK, Atlas/Penn Engineering, Sherex, Lobster Tools, FAR-S.r.l., Champion Cutting Tools, and more. Bay Supply also provides a complete line of tools, full technical support, and a repair division.
"Our metal working tools segment is enlarged with additional cutting, drilling, hammering products. We offer hydraulic and pneumatic tools, adhesives and more. We service the tools we sell."
Cliff sums up, "The future is already here, and we are ready. Bay Supply is the best partner for all of your engineered fastening and tool needs."