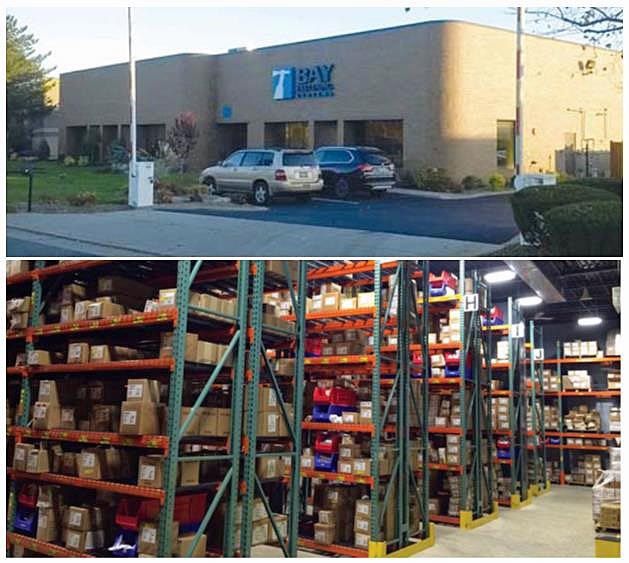 Putting our customers first has made Bay Supply the authorized master distributor for so many of the top brands in engineered fastening systems and tools. Take that customer-first philosophy and add more than a half-century of industry knowledge and technological leadership to drive the company forward.
BaySupply.com is the world's largest online engineered fastener resource and a division of Bay Fastening Systems, Inc. Clifford Bernard, President of Bay Supply and Bay Fastening Systems, is always happy to discuss your business and product needs. He is just as ready to discuss how his company has grown and adapted to become the leading authorized distributor of the top brands of riveting and engineered fastening systems and related installation tools.
Celebrating More Than 5 Decades of Service
Cliff explains, "Bay Fastening Systems was founded in 1962 by my father, Al Bernard, who was a true pioneer in the engineered fastening and distribution business. It was a time when sales were conducted by walking the local streets to build customer relationships and trust. My dad happened to be a naturally gifted salesperson. He knew to build that trust, you need knowledge and confidence, and [he knew to] never take something for granted. He also knew that he had to offer the highest-quality products from all of the top brands—a strategy we adhere to today."
Cliff continues, "Bay Fastening developed strong roots in Brooklyn, New York, with a basement warehouse below the small company office. With Al's commitment and vision, Bay continued to grow until every possible space was filled! In 1966, he moved the growing business to Garden City Park, Long Island, New York."
"Of course, we saw the industry trends and changes. Our business had some new challenges. Manufacturing faced a decline because of several factors, and this resulted in a decline of prospective customers. I came to the conclusion that a large inventory and quick availability are the keys to success. When I succeeded my father, I knew we had to change the business model for Bay to grow. We shifted focus to serve the supply chain needs of fellow distributors within the industrial supply industry."
In 2010, Bay started to reorganize operations by investing heavily in new technology to support and streamline operations. New operating systems were put in place and the company began data farming in anticipation of building one of the largest online resource portals for B2B commerce in the modern industrial supply industry.
Dedicated to Becoming One of the Best Fastener Suppliers
In 2012, we launched our online B2B business portal, BaySupply.com. We established relationships with distributors located around the world and consolidated the global operation to serve partner manufacturers with global distribution. We aim to set the industry standard to be one of the best fastener suppliers for engineered fastener distribution and tracking.
By digitizing operations and inventory, BaySupply.com makes it easy to get:
More in-depth product info
Improved business operations and order processing
Integrated punch-out systems
Transparent pricing with up to 10 quantity break pricing options
In addition, BaySupply.com has integrated standardization of sourcing, saving distributor customer part numbers so they can be cross-referenced with the Bay Supply inventory. No longer is there the need to recreate customer lists—BaySupply.com has multiple functionalities that save your previous ordering information.
Compare this digital solution to the costs of traditional sales calls, travel, expenses, and appointments. There is no comparison! Bay Supply is an authorized master distributor of rivets, Huck bolts, threaded inserts, coil thread inserts, and aerospace MS/NAS rivet nuts. All of the leading brands of engineered fasteners are available from Bay Supply, including STANLEY, POP, Avdel, Huck, Marson, Champion, and many others.
Authorized for Tool Repair of Top Brands
In the case of engineered fasteners, a secure and reliable production process requires a well-maintained and efficient engineered arsenal of tooling installation systems to ensure lines remain operational.
Suppliers for the OEM community serve the urgent needs of their customers, and this includes the need for tool maintenance, parts, or replacement, as well as the periodic urgency of a down line.
Bay Supply is prominently known for being one of the best fastener suppliers with our incredibly large and readily available inventories of consumables to serve the supply requirements of distributors and VMI providers. We also provide your organization with a complete factory authorized repair facility to help you meet your customers' tooling warranty, maintenance, and parts services needs.
In addition, we maintain the country's largest tool parts inventories for engineered fastening installation systems. If your customers require parts for maintenance, tool repair, or warranty coverage, we're at your service so you can be at your customers' service.
Bay Supply's technicians are factory-trained to repair all installation systems, and Bay Supply is recognized as an authorized facility for repairs, warranty processing, and parts. Our technicians travel to tool system manufacturers to participate in advanced educational training to ensure we meet the requirements to serve as a factory authorized facility.
Many distributors establish maintenance programs with their customers and have our facility provide routine preventative maintenance and service to their equipment as a value-added service to support their commitment to their customers. Distributors call on us for urgent repair services, regular parts maintenance, warranty processing, and even, when available, rentals to serve their customers.
Distributors and VMI providers that use our factory authorized maintenance and repair facility recognize the value of providing their customers with a reason to purchase all tooling systems from them because of the value-added service to secure reliable operations.
Our facility does not simply restore a tool's basic functionality. Every tool received for maintenance or repair is completely disassembled, cleaned, and oiled, and any worn part is replaced along with any broken parts. Our goal is to ensure that the service is comprehensive and the tool is reliable for continued use and not subject to the frequency of occurrence over time.
Our technicians provide a comprehensive assessment of costs and requirements for consideration before completing the work. This assessment typically includes a diagnosis of the future reliability of the tool along with an economic assessment for a replacement when a tool is nearing its useful end.
Supporting Your Fastener Needs and Your Business
Bay Supply has the future of your company and customers in mind. Michael Eichinger, Chief Operations Officer, notes that "we live in a world driven by data. How your organization defines its data strategy and approach—including its choice of big data and cloud technologies—will make a critical difference in its ability to compete."
Eichinger continues, "Businesses today MUST reinvent themselves. We've all seen eroding profit margins. It isn't always easy … but this is the way to restore and improve profits … by transparency, the sharing of information across multiple data points and platforms. Bay is your partner on this, enhancing the process [and] helping distributors connect with their customers. Now more than ever, it's a customer-driven business."
It's not just the company you keep; it's the company you build. Bay Supply is committed to having the right people working as a team with a laser-focus on providing top-tier service and always going the extra mile. We are passionate about offering the highest-quality products from all of the top brands.
This blog was originally published March 2017 and updated August 2020.