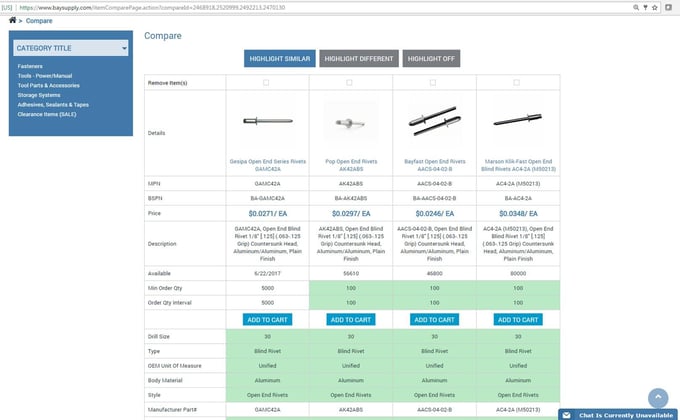 Bay Supply offers a number of top brands, imports and our own brand of BayFast fasteners in order to serve the economic demands of our distributors. We have invested many resources in cross-analysis of fastener specifications to establish substitute or alternative brands at various price points. When a distributor identifies a desired fastener on our website and visits the item detail page, below the item specifics are a list of Substitute/Alternative brands offered that meet exact or similar specifications of the item sourced.
This display of Substitute/Alternative Items is a valuable resource for our distributors because it displays the pricing and available quantities of each brand offered. There are a number of benefits that our distributors utilize with these offerings:
Pricing for each Substitute/Alternative Item is displayed to evaluate possible savings for the distributor or his/her customer.
Quantities available are displayed for assessment of alternative procurement opportunities to serve immediate sourcing needs.
A compare feature allows distributors to display a side-by-side comparison of all substitute items including price, available quantities and engineering specifications so that a true substitute can be established.
When it comes to fastener selection, distributors evaluate their customer's application and preferences. While top brands have the most reliable consistency related to setting and overall appearance, certain applications may not have an aesthetic requirement for visible consistency and a more cost effective alternative may be a prudent choice.
Many distributors are not familiar with appropriate cross-referencing of various brands to efficiently evaluate options for procurement. Structural fasteners of very high quality offered by a number of top brand manufacturers are frequently overlooked by distributors because of the analytical time required to identify a possible alternative offering.
Recently, some distributors referred to our Substitute/Alternative Item offerings as the "MOST" valuable tool in their arsenal.
We will continue to highlight resourceful information related to the functions that we offer our distributors through the BaySupply.com portal.