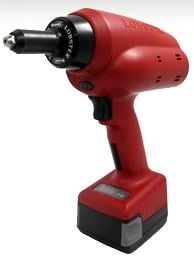 Have you seen the latest generation of high-power cordless riveters? Step right up and let Bay Supply CEO Clifford Bernard tell you about his current favorites.
Bay Supply has been the premier distributor of industrial pop rivets and fasteners for 55 years. Bay also stocks, sells and services the rivet tools that install these products – with one big difference from other tool suppliers: the knowledge and expertise that Bay's engineers and technical advisors bring to every transaction.
That knowledge starts at the top, with CEO Clifford Bernard. Cliff knows more about the products Bay sells than practically anyone, and he has seen it all. Which is why when Cliff gets excited about new industry developments, we must know, "what's up."
Top of mind is the latest generation or cordless riveters. These new tools are more powerful, less fatiguing and more flexible than ever before. Bay has sourced the finest riveting tools from around the world. Who better to tell you about these latest developments than Cliff, himself.
The Cordless Revolution
"This new generation of cordless riveters is leaps and bounds ahead of what was available even just a few years ago," Cliff starts. "It's an industry revolution. The top tool makers around the world are on a roll due to advances in brushless motor technology, powerful faster-charging batteries, and forward-thinking ergonomic designs. They have a higher installer comfort-level with far less vibration. They can place more rivets – and larger rivets – on a single charge. It's a global trend and I'll give you the tour." Cliff's picks:
POP® Avdel® ProSet® PB3400
Cliff points out "the new ProSet® is an excellent example of these new tools. The DeWalt® 20v battery packs are a vast improvement over previous 12v and 18v designs. The long-lasting battery is capable of placing up to 1,000 3/16" to ¼" structural blind rivets per charge. It has a durable brushless motor that requires minimal maintenance. Super easy to use, this unit has a tool-free, quick-release nose housing and jaw guide, a rivet-holding mechanism, and quick-slide battery installation. Stanley® Engineered Fastening at its best."
MARSON® BT-3
Cliff asks, "what do you need in a cordless tool for more efficient installation? Stronger pulling force? Longer stroke? An ability to install larger fasteners, including a wide range of Marson® rivets and Magna-Lok® rivets? The BT-3 does all of that, including Monobolt® rivets, Marson® closed-end rivets and multi-grip (Avex®-style) rivets." Cliff adds the BT-3 is ideal for a wide range of uses including construction, trailer, furniture, lighting fixture, sign assembly and many other installation applications.
GESIPA POWERBIRD® PRO GOLD EDITION
Cliff also likes this tool from Gesipa®, "a proven leader in German-engineered, German-manufactured rivet guns. The PowerBird Pro has a lightweight design that still delivers high volumes and fast working sequences. This company is well known for their European business. Now they have an expanding footprint in the U.S. market. The PowerBird Pro is versatile, installing the BULB-TITE® family of rivets, MEGAGRIP® blind rivets and Huck® bolts as well.
LOBSTER® R1B1 AND NEW R1B2
Cliff advises that "this is one of the most advanced designs for high speed riveting. An innovative, versatile cordless riveter from Japan that is super-comfortable, with the most compact body in its class. This high-quality tool is well balanced and easy to handle for less user fatigue. It features a mandrel collector, made-in-Japan battery, LED spotlight, ejection capability, counter and more".
HUCK® B4600
"Alcoa is now Arconic®, and they own Huck® and Marson®. That makes for some great products," Cliff continues. "The new Huck B4600 combines light weightandease of use with pulling-force performance you would expect from a much larger, heavier tool. Able to use Huck nose assemblies, the gun was developed to reliably set structural rivets, Huck C6L Huckbolts®, and MagnaGrip® HuckBolts®."
RIVDOM ONE VT400

RIVDOM TWO VT402
"Here we have a new class of German-engineered, highly durable cordless riveters that are designed to go anywhere and tackle virtually any task. The VT400 can set up to 2,000 rivets per charge".
"The VT402 takes this performance even further by employing a larger 20v Lithium ion battery, and new brushless motor design. The VT402 has a powerful pulling force of 4,496 lbs. for all rivets up to ¼". The long 1-1/8" stroke is ideal for high-strength or split/peel rivets. It weighs just 4.4 lbs. and has a full charge in just 30 minutes. "
HONSEL VNG703 BZ103A BZ123A
"More fine German engineering! All three Honsel guns are durable and low maintenance with quick riveting cycles. The VNG703 sets up to 5/16-18" (M8) rivet nuts. The long-stroke BZ103A sets up to 3/16" diameter rivets and features an energy-efficient vacuum design with high-capacity mandrel tank".
"The top-of-the-line BZ123A also has a long-stroke design which sets up to ¼" structural rivets and energy-efficient vacuum mandrel system, a unique feature which provides the option of leaving the vacuum function on at all times, off, or trigger actuated. It can be used with aluminum, steel, or stainless steel rivets."
Knowledge is Buying Power & Ultra-Competitive Pricing
Cliff Bernard knows that to keep Bay Supply as the "go to" company for engineered rivets, fasteners and installation tools, they have to offer not only the finest products but also competitive pricing. "Our unique experience and relationship with manufacturers permits us to be sharply competitive with our pricing. Bay Supply is the one-stop resource that will save you time and money".
"Engineering specifications, data sheets, tool manuals, instructional videos and manufacturer catalogs are all right here. If you have a question, give us a call and our engineers and technical advisers will have the answer".
"Bay Supply will get you started with free ground shipping on domestic orders over $99 and complete online checkout for international orders from more than 200 countries."
Servicing the Products We Sell
Cliff is proud that "Bay Supply is a Factory-Authorized Repair Center for virtually all of the tools we sell. We stand behind every transaction and will help keep those tools on the job."