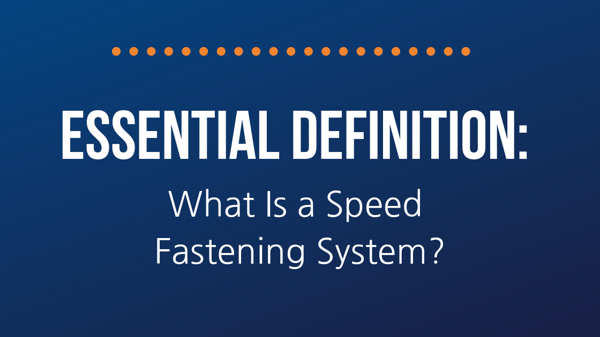 In every industry, time is money. The more time it takes to complete any task, the more time it takes to complete the job and the more that job costs. In manufacturing, construction, repair work, and related fields, efficiency matters; the less time it takes to get the job done, the more you can produce and the more you can lower your costs. That's why fastener distributors are seeing more demand for Speed Fastening systems.
What is a Speed Fastening System?
As the name implies, Speed Fasteners speed up the process of installing blind fasteners by eliminating the need to manually load each rivet for fastener installation. This approach simplifies installation of multiple fasteners of the same type and substantially cuts production time. As fast as the operator can locate the workpiece hole and actuate the tool, the rivet is set and next rivet is instantly loaded ready for installation.
The Advantage Is in the Name: Speed
With conventional manual blind fastener tools, rivets or fasteners are loaded and installed one at a time. That's fine for smaller jobs in which one or two precision fasteners will do. However, for most assembly operations, fastener installation is highly repetitive—insert the rivet into the installation tool; insert the fastener into the hole; set the fastener by pulling the rivet to bulge the blind side, and installation is complete. Now consider how much time it would take to set 25, 50, or 100 of the exact same fasteners using this manual approach. In comparison, Speed Fastening allows unskilled labor to place up to 2,000 rivets per hour.
Speed Fastening systems eliminate the need to manually load each rivet into the placement tool. With a Speed Fastening system, a re-usable mandrel is loaded with a paper cartridge containing multiple rivets or blind fasteners. Once the Speed Fastening tool is loaded, you simply peel the paper off the cartridge and you are ready to go. Rather than reloading to set each fastener, you simply place and pull, and the next rivet is automatically positioned for the next set.
Using a Speed Fastener system can substantially reduce installation time, especially when you have to install the same fastener multiple times. According to Avdel, which manufacturers some of the best-performing Speed Fastener systems on the market, you can cut cycle time to less than two seconds. If you are installing more than 10 break stem fasteners at once, speed fasteners will save you a lot of time. In fact, it's possible to set up to 60 speed fasteners per minute accurately and securely.
To save even more time, fasteners can come preloaded with a disposable mandrel pre-loaded into the paper cartridge magazine. This preloading eliminates the need to load the reusable mandrel, greatly reducing load time and further improving throughput rate.
Versatile as Well as Fast
Although they were originally developed for aircraft assembly, Speed Fastening systems are being used for a wide range of manufacturing applications, including electronic sub-assemblies, light metal fabrication, automotive, lighting, and household goods. The concept of speed fasteners is so simple that it can be applied to virtually any type of mandrel-driven rivet or fastener, and fastening systems can accommodate fasteners of any length, diameter, material, or finish.
Avdel, for example, has nine different types of compatible speed fasteners:
In addition to reducing fastener set time, speed fasteners offer a variety of advantages over manual fasteners. There are fewer components to handle, which saves time and reduces the chance of injury. There are no loose fasteners to drop on the floor, and there are no stems to collect. They also provide a consistent and repeatable joint, which minimizes reworking. They also have excellent durability, including superior clamp up and better shear and tension characteristics, and they don't loosen with vibration.
Additionally, you don't have to use speed fasteners solely for volume installation applications. They can be used for low-volume applications or even simple repairs. The added versatility means you need fewer set tools for any type of job.
Our team of fastener experts can guide you to the right system, the right fasteners, and the right Speed Fastening system. Bay Supply is one of the most experienced engineered fastening system distributors in the business. We offer engineering and design support, tool sales and service, and can assist with automation and integration of Speed Fastening technology into your application.