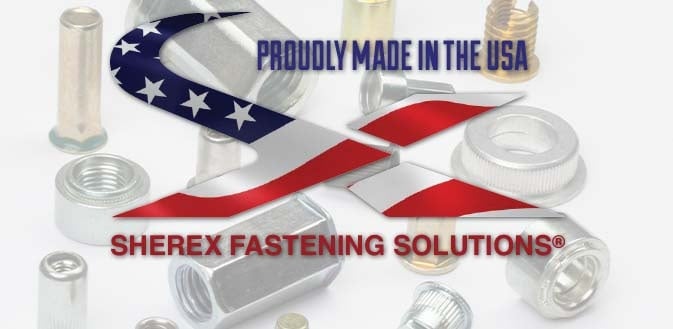 Bay Fastening Systems and Sherex Fastening Solutions, Tonawanda, New York have formed a strategic partnership to expand their mutual product offerings. The new alliance will initiate with Bay providing shelf stock inventory of Sherex's NAS/MS Mil-Spec Rivetnuts for immediate delivery to the marketplace.
Clifford Bernard, CEO of Bay Fastening Systems, commented "Bay is currently serving thousands of distributors globally with its multi-million dollar inventory featuring the leading manufactured brands of riveting, inserts and engineered fasteners and welcomes this unique distribution agreement with Sherex. Through our newly launched e-commerce portal www.BaySupply.com, the largest inventory source of engineered fasteners in the industry we will now offer instant quotes and access to the Sherex line of NAS/MS Mil-Spec Rivetnuts. We view Sherex as an innovative and high-quality manufacturing partner that moves quickly to embrace the future of industrial distribution."
Adam Pratt, President, of Sherex said, "this new partnership between our two companies will naturally lead to greater market penetration of our products. Bay will operate as a supply, marketing, service, and distribution arm for Sherex. We will work closely with Bay to identify opportunities in the marketplace for our other products and particularly our Mil-Spec USA-made Rivetnuts and stainless steel CFT series Nutsert® style threaded inserts."
Bay Fastening Systems, Inc, established in 1962 is a leading international authorized master distributor of rivets, Huck® bolts, threaded inserts, coil thread inserts and aerospace MS/NAS rivet nuts. Leading brands include Sherex, Stanley Engineered Fastening, POP, Avdel, Huck, Marson, Recoil, Gesipa, AVK, Atlas/Penn Engineering, Lobster Tools, FAR S.r.l., Champion Cutting Tools, and more. Recently it launched the world's largest e-commerce engineered fastener web portal www.BaySupply.com. Bay Fastening Systems also provides a complete line of tools, full technical support, installation systems, and repair division.
Sherex Fastening Solutions is a global manufacturer of standard rivet nut inserts, custom engineered rivet nut and stud inserts, compression limiters, and clinch nuts. Headquartered in Tonawanda, NY, Sherex manufactures a wide range of fastening solutions for steel, plastic, and composite applications in its ISO TS-16949 facility in Chungli City, Taiwan and its ISO AS9100-certified facility in Akron, Ohio. Sherex manufactures products for the Automotive, Aerospace and Defense, Agriculture and Construction Equipment, General Industrial, and Heavy Truck markets. For additional information on any of the Sherex brand fasteners, tools, and automation please contact Sherex at 866-474-3739 or visit their website at www.Sherex.com.