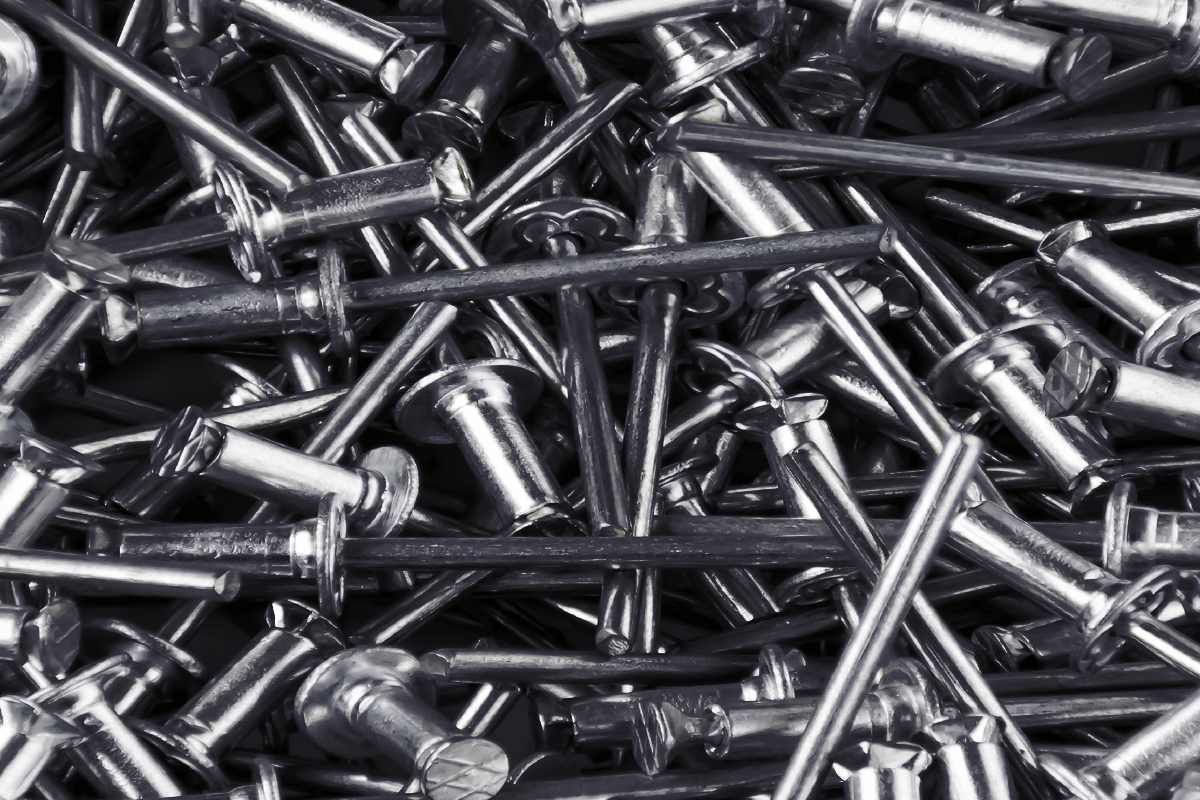 With their impressive formability, strength, and durability, steel rivets are one of the most common—and long-lasting—fastening materials on the market. According to Assembly magazine, they're also one of the oldest blind rivets: "The first steel blind rivets were developed for use in the auto industry during the Great Depression."
Allowing the operator to install a secure fastener when one side of the application is "blind" or unreachable, blind rivets continue to be revolutionary in countless industries. These rivets are also known widely as "pop" rivets because of the popping sound they make during installation, but they should not be confused with POP® brand rivets, which are those specifically manufactured by Stanley Engineered Fastening, a division of Stanley Black & Decker.
Blind rivets comprise a body and a mandrel, or stem, and when the rivet is set, the body is deformed to clamp and hold the materials of the application together securely. Blind rivets are easy to install, versatile, and unlike many fasteners, they can't be under- or over-torqued or set loose.
Types of Steel Rivets
Steel is an alloy that is created by adding carbon to iron, and these elements make it incredibly strong and durable. There are three types of steel blind rivets:
Low-carbon steel rivets
High-carbon steel rivets
Stainless steel rivets
Both high-carbon and low-carbon steel are incredibly durable, but high-carbon steel contains more than 0.5 percent carbon, which makes it stronger than low-carbon steel. Stainless steel, on the other hand, is an alloy comprising iron, nickel, and chromium. The chromium provides the steel with a thin layer of oxide on the surface that resists staining and corrosion. Depending on your application needs, stainless steel and carbon steel blind rivets come in non-structural, semi-structural, and structural varieties.
Benefits of Steel Rivets
Stainless steel rivets have become more popular in recent years because they are highly resistant to corrosion. Closed-end stainless steel blind rivets specifically are air and water tight, making them an ideal solution.
Depending on your application, you can opt for low-carbon steel rivets or higher-carbon steel rivets. Low-carbon steel is most often used in projects that require good rivet formability because these rivets give more clinch-over in your application. High-carbon steel, on the other hand, is used when the strength and hardness of the rivet is of the utmost importance, such as in locomotive manufacturing. They actually gain more strength as they are clinched during installation. The formability of these types of rivets is lower, however, and they're hardened more than low-carbon rivets at production.
Uses for Steel Rivets
In general, blind rivets are preferred for countless applications: tractors, heavy trucks, garage doors, prefabricated metal buildings, other large assemblies, and white goods, which are consumer goods such as air conditioners, refrigerators, and stoves (at one time these durables were exclusively painted with a white enamel finish, and although they come in countless colors today, they're still known as "white goods").
Steel blind rivets are frequently used in oil and gas applications such as offshore rigs, mining, pipework, and tank applications because of their durability and 100 percent waterproof seal. Low-carbon steel blind rivets are excellent fasteners for containers, construction, and furniture, and high-carbon steel blind rivets are frequently used in the aerospace, automotive, and locomotive industries because of their incredible strength and ability to retain their integrity in the toughest environments. Stainless steel rivets are popular for use in the transportation and power-generation industries.
Contact us to get a quote on steel rivets, and our experienced team of fastening experts will ensure you have the right rivets for your next job.