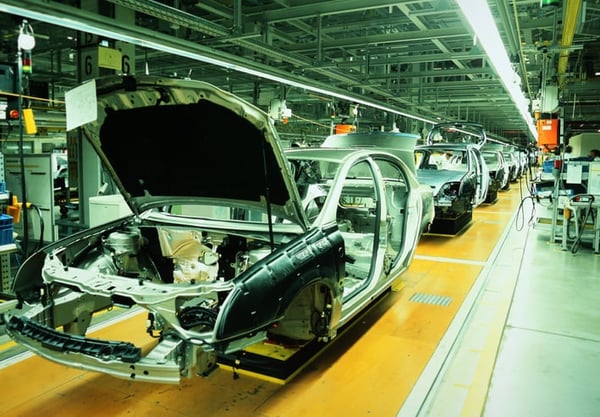 Blind rivets have come a long way in the last 100 years. What makes blind rivets so useful in a wide range of industries is the fact that you can drive them in from only one side, and once sealed, they have excellent load-carrying capacity and are less prone to failure caused by vibration or corrosion.
The blind rivet (also known as a pop rivet) was created in 1916 by Hamilton Neil Wylie, an engineer and Royal Navy reservist. It was revolutionary because for the first time, rivets could be driven without requiring access to both sides of the join. In 1922, Wylie put his patented blind rivets to work for a British aircraft maker, refining his design, and others followed, including inventors Carl Cherry and Lou Huck, until they developed the one-piece units with mandrel and rivet that are commonly used today.
Having proven their value in aircraft manufacturing, pop rivets were soon adopted for other forms of transportation, electronics, appliances, and a host of other applications where blind rivets could do the job no other type of fastener could.
Plastic Pop Rivets Are Ideal for Automotive
In today's automotive and trucking industry, blind rivets are commonly used because they are extremely durable and require no welding, adhesives, or special skills to install. For example, automotive rivets are ideal for structural repairs, such as installing a panel on top of a broken or corroded panel or installing plastic bumpers and other accessories.
As pop rivets have evolved, the materials used to make them have evolved as well. Plastic and nylon pop rivets are commonly used in automotive manufacturing because they are strong (stronger than aluminum), lightweight, and non-corrosive. They also are useful for joining painted surfaces because they are less likely to mar the finish.
Bay Supply offers precision plastic rivets from two manufacturers for these types of applications:
Marson plastic rivets are black and feature a truss head. They are commonly used for plastic-to-plastic, plastic-to-metal, and plastic-to-fiberglass joins and are non-corrosive and non-conductive.

Gesipa plastic rivets have a dome head and a plain finish and can be installed using manual or automatic riveters. They are ideal for joining plastics, fiberglass, wood, metal, Plexiglass, and other materials.
We also have a wide variety of blind rivet types for automotive applications:
Blind Rivets for Aviation and Transportation
Bay Supply also carries a full line of rivet nuts, rivet nut inserts, closed-end rivets, and pop rivets for aviation manufacturing and repairs, locomotive and railroad manufacturing, and other transportation applications.
In aviation, solid rivets are usually preferred for applications where full load transfer is a concern, such as hinges, landing gear, and wing attachment fittings, or where a fluid-tight seal is required. Blind rivets are very useful for other aspects of aviation manufacturing, such as installation of cabin components and non-load-bearing parts. Pop fasteners have sufficient strength, are easy to install, and can handle drastic temperature changes without weakening. Coil thread inserts are used to create high-strength threads in low-strength materials.
What makes blind rivets so attractive for aviation and transportation applications is their resilience and their resistance to constant vibration. Blind rivets have been demonstrated to be more durable and safer than conventional rivets. They also are ideal for making repairs that will last.
Pop Rivets for Electronics and Appliances
Pop rivets have also found their way into most manufacturing applications, including electronics. Plastic pop rivets, rivet nut inserts, closed-end rivets, micro rivets, and pull-through rivets are commonly used in electronics to hold plastic parts together or to anchor a circuit board. Nylon blind fasteners are particularly useful because they are strong but non-conductive.
Similarly, plastic pop rivets, rivet nuts, and blind rivets are used in appliance manufacturing, largely because they address the same challenges of heat resistance and vibration. For example, pop open-end rivets are ideal for use in gas grills because they can handle the heat. Pop rivets last longer when subjected to the operating vibration of a pump, laundry dryer, or air conditioner. Speed fasteners are also useful for excellent holding power and quick installation.
Blind rivets may be the most versatile fasteners on the market, and manufacturers have plenty of options when it comes to choosing the right fastener for the job. Of course, it helps to have a great fastener distributor in your corner who can help you find the right rivet for your needs.