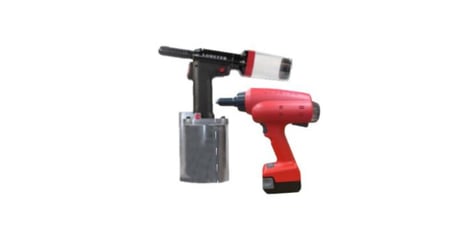 Pop rivets continue to be among the best-selling fasteners because they're easy to install and provide a solid, lasting joint that won't loosen over time. They work with virtually any type of material, from metals to plastics, and they perform better than a screw or nuts and bolts
Pop rivets can be installed using handheld or power tools, but like any fastener, they must be installed correctly to deliver maximum performance. Bay Supply is seeing more Lobster tools sold for pop rivet installation because of the brand's reliability and cost-effectiveness.
If you aren't familiar with Lobster tools, let's take a dive into Lobster's most popular rivet tools.
Pneumatic Rivet Tool Basics
Lobster pneumatic equipment is known for providing power and consistency for a cost-effective price. The company makes a full line of manual, cordless, and pneumatic rivet tools suitable for pop rivets and other types of applications, and its pneumatic rivet tools are especially popular for factory assembly lines and in-shop use.
Whether you are shopping for a Lobster pneumatic rivet tool or any type of pneumatic rivet gun, take into consideration these components and specifications:
Compressor: The air compressor is an essential part of any pneumatic tool kit, and you need a compressor that can deliver consistent, continuous power. Most rivet tools use 4-5 cubic feet per minute of compressed air at 90 PSI.
Pneumatic hose: Most hoses are made from polyurethane, polyethylene, or other plastics that are flexible, kink-resistant, and durable. Polyethylene hoses work well for low-pressure applications. Polyamide hoses are strong and light but less flexible, so they work well for high-pressure applications.
Air pressure: Most pneumatic rivet guns operate at 90-100 PSI. Adjusting to the correct pressure for the type of fastener ensures a correctly set rivet.
Other components: You also will need a jaw set, pusher, and mandrel collector to prevent stray metal from littering the shop.


A Selection of Lobster Rivet Tools
Lobtex, the Japanese parent company that makes Lobster rivet tools, has been around since 1888. It started by making hair clippers and today manufactures a variety of tools, including wrenches, pliers, cutting tools, and industrial fastener tools.
The Bay Supply Marketplace offers many tools in Lobster's fastener line, including the brand's more popular pneumatic rivet tools such as:
1. The R1A1(A) and R1A2(A)
R1A1(A) pneumatic tool for standard rivets and the R1A2(A) pneumatic tool for heavy-duty rivets both feature a narrow-frame head to accommodate 21 mm and 22 mm rivets with a 19 mm stroke (R1A1) or 26 mm stroke (R1A2). These rivet guns are lightweight, easy to handle, and use 30 percent less air than comparable rivet tools.
2. AR2000 Series
The Lobster AR2000 series are lightweight pneumatic rivet guns that feature Shock-Set shockless technology to minimize the risk of cumulative trauma disorders (CTDs) and a noise muffler.
The AR2000S is the standard lightweight riveter, and the AR2000H is the heavy-duty model. The AR2000-V series offers the same lightweight (AR2000SV) and heavy-duty riveters (AR2000HV) with an integrated vacuum system to collect mandrels.
3. ARV-015 Series
The ARV-015 series includes smaller pneumatic rivet tools that come in different configurations for different uses. The ARV-015MX is an inline-style tool with a vacuum collector for 3/32- to 3/16-inch rivets. The ARV-015M is Lobster's in-line battery-powered riveter.
4. The ARV-022M and ARV-025M
Lobster's ARV-022M and ARV-025M pneumatic tools are small but mighty. These both feature Soft-Set shockless technology and are lightweight and designed to set rivets up to 3/16 inches. The ARV-022M has a conventional pistol design, while the ARV-025M has an upright design.
5. The AR2000A-90
The AR2000A-90 is Lobster's pneudraulic rivet tool for rivets from 3/32 to 1/8 inches. It has a swivel head and operates at 71-865 PSI.
6. N1A2
The N1A2 pneumatic tool is a high-power rivet nut setter with a 40 percent faster operating speed than other Lobster pneumatic tools and a lower weight, at 2.1 kg. The N1A2 has a working pressure of around 0.5-0.6 MPa (72.5-87 PSI) with a 7 mm stroke. The NiA2 rivet nut gun is available as a custom order with a 2.5 mm-4 mm nut setting capacity.
7. R1B1 and R1B2 Cordless
If you need more mobility, Lobster offers the R1B1 and the R1B2 cordless tools. The R1B1, for 3/32- to 3/16-inch rivets, weighs 4.19 pounds and uses a lithium battery for longer service and faster cycle times. The R1B2 is a 120-volt battery-operated tool with a 22mm stroke, but it can set ¼-inch high-strength rivets.
8. Manual Rivet Tools
Lobster also makes a series of manual rivet and crimping tools available from Bay Supply for smaller jobs or repairs requiring only a few rivets.
Find Lobster Tools and More at Bay Supply Marketplace
To see the full line of Lobster pneumatic rivet guns and rivet tools, visit the Bay Supply Marketplace. Whether you are a manufacturer, distributor, or buyer, signing up for the marketplace is easy and free. More manufacturers are adding their fasteners, parts, and tools to the Marketplace every week, so it's the ideal place to shop for all your fastener needs.