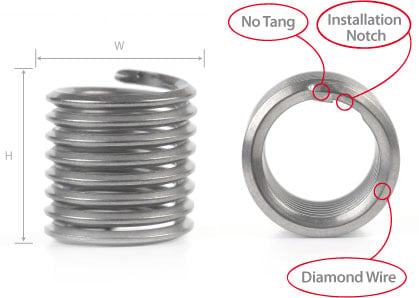 Who would not be interested in a system that delivers increased installation speed, installation adjustment and removal flexibility, all while eliminating foreign object damage? Let's take a look at one of the newest developments in fastener technology, tangless coil thread Inserts.

What you need to know about today's newest precision fastener technology.
Originally used in European and Asian markets, this advanced precision design is gaining traction in markets all over the world, including here in the U.S.

Bay Supply is a fully authorized distributor for the new Recoil® Tangless Helical Inserts.

Bay Supply is "coiled and ready" to help distributors ride the leading edge of this trend to greater profits! We have free-running and screw-locking designs, as well as the highly efficient strip-fed style. All are designed to offer the same reliable thread strengthening benefits while eliminating the risk of losing a tang. We also have the user manuals, pneumatic and electric tooling, repair parts, expert servicing, and sound advice.

A closer look: Free running inserts are quick and easy to install using basic hand tooling. Locking inserts retain screws or bolts under the most severe conditions, creating high-strength threads in low-strength materials. The strip-fed style has the inserts positioned in a plastic ribbon, which is passed through a slot in the front end assembly nozzle, indexing the insert to the installation mandrel. This design offers increased installation cycles coupled with less operator fatigue.
The Bigger Picture
As per their name, these inserts do not require a tang to complete the installation process. Instead, tangless inserts employ a driving notch to work the installation.

Tangless coil thread inserts are identical in form, fit and function to conventional tanged inserts, except for the manner of installation and removal. While specialized installation tooling is needed, the benefits are clear. Here's the upside:

Increased installation speed with reduced inspection times. With no tang to break off post insert, you eliminate a full step in the installation process - no need for vacuuming or tang extraction! Tangless coil thread inserts are ideal for automatic installation in high-volume applications. The design is also favored for high-tech manufacturing, electronic devices and the like, wherever high-precision smaller diameters are called for. Bi-directional design does away with insert orientation – no need for insert checking prior to each installation.

Installation adjustment and removal flexibility. Tangless inserts are easily adjusted or removed after initial installation – you just insert the installation tool and wind or unwind. Removal tools never touch the application itself.

No Foreign Object Damage. There are no loose tangs to potentially damage the finished product! The absence of a tang eliminates the risk of waste falling into engines, electronic assemblies and other complex, delicate environments.

Insert technology is here – why not distribute the new Recoil® tangless coil thread insert design

Coil thread inserts offer improved assembly strength by transforming conventional shear loading (typically the first three threads of the bolt) to preferred hoop stress/radial loading over the entire length of the insert. Designers can use this attribute for superior product-to-job match, based on the minimum strength of the bolt.

Let Bay Supply set you up with the new tangless coil thread insert products, and installation tooling. Bay Supply is a FULLY AUTHORIZED Recoil® tangless coil thread insert distributor. Give us a call. Speak with Bay Supply Product Tech Specialists Richard ("RJ") Nappi, Anthony Trapani, or Nick Ryan at 1-516-294-4100 / 1-800-718-8818.

Do you have a question or topic of interest to the Distributor community? We want to know. Be part of the Bay Blog. Send your topic or question to info@baysupply.com.