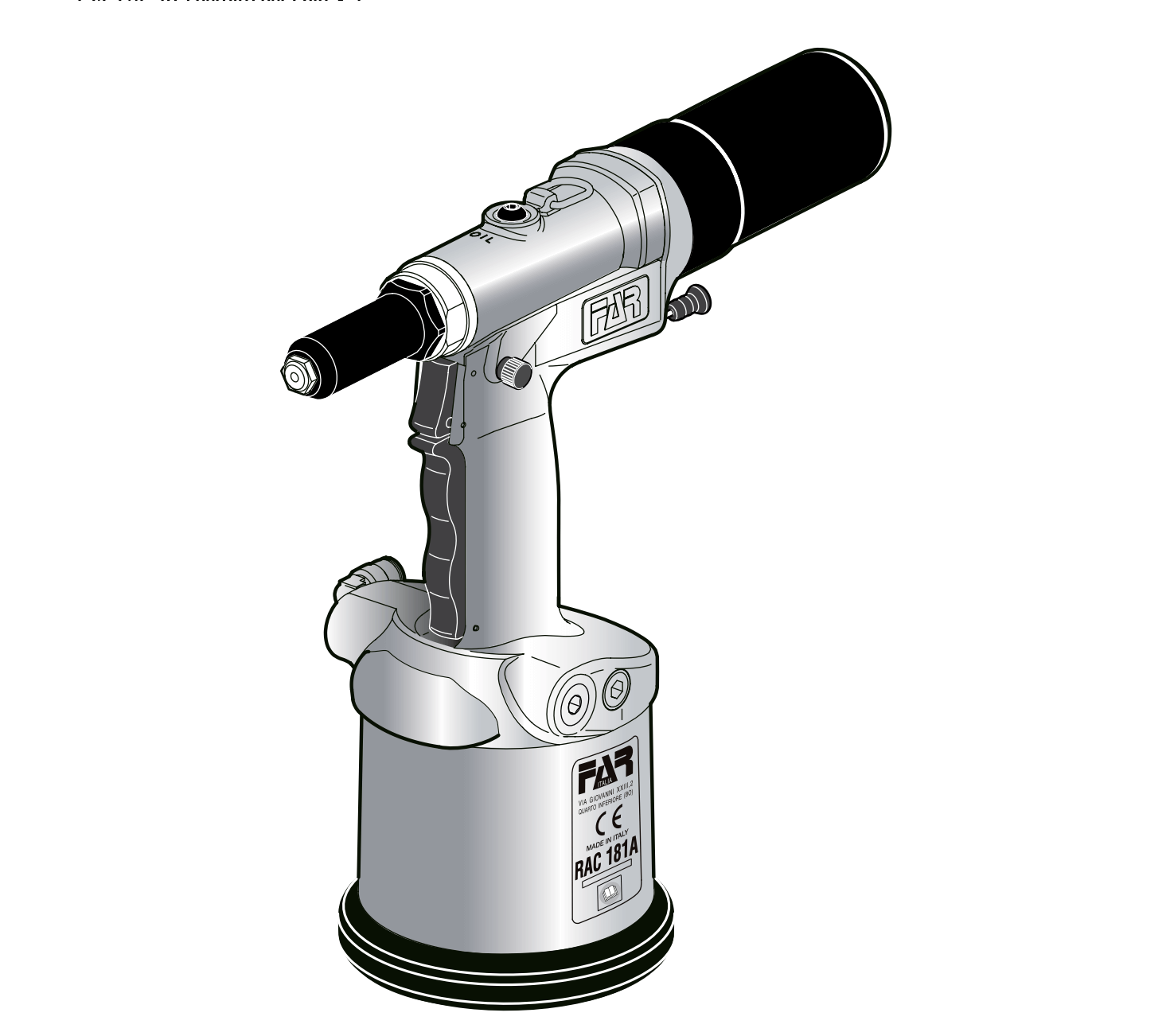 It's important to choose the right blind bolt, rivet, or fastener for any job. It is equally important to choose the right tool to install those fasteners. Once you select the tool that is best suited to install the fastener, you can be sure that the rivet is properly installed and the joint will last. There are a wide range of blind rivet tools from which to choose, and it's not always obvious which will be the right tool for the job. To help guide you, we want to profile some of the latest blind rivet tools and discuss their various capabilities and applications.
There are three basic categories of blind rivet tools:
Manual riveting tools: Manual riveters require no external power source and are less expensive than powered tools. They are, indeed, manual so they can be used for smaller jobs, simple repairs, and other applications in which a manually installed rivet will do the job. There are a variety of tools from leading manufacturers such as Avdel, Cherry Aerospace, FAR, and Gage Bilt that can be used with different rivets and fasteners.
Cordless tools: Cordless or battery-powered blind rivet tools are extremely useful because of their portability. Tools from makers such as Gesipa, FAR, and Avdel are just as powerful as other types of blind rivet guns, but they use a battery pack, making it easier to use them anywhere. However, cordless tools do tend to cost more, and you have to monitor power usage and have backup batteries available.
Pneumatic tools: Pneumatic blind rivet tools are powered by compressed air for demanding applications such as equipment manufacturing and construction. Pneumatic tools come with different power outputs and in various sizes for a wide range of uses. They are available from manufacturers such as Avdel, Gesipa, Huck, and Pop.
Other types of blind rivet tools include compression squeezers and air hammers. These tools are used for specific applications, such as rivet removal.
To give you a better idea of what these various tools can do, here are some details about the latest blind rivet tools to hit the market.
Manual Blind Rivet Tools
Manual rivet tools are ideal for quick repairs and projects that don't require a heavy-duty joint.
The FAR K14 (part BA-700014) is from Italian toolmaker FAR. Their K14 manual tool is made of brass and is primarily used in the shop or for repairs. It can accommodate rivets ranging from 3/32 inches to 3/16 inches in size.
The Huck Big Daddy Lockbolt Tool (part BA-M39500) from Arconic Fastening Systems is a popular manual rivet tool, especially for setting large-diameter rivets such as those used in truck cabs and trailers. It features long handles for more leverage and more installation power and includes a special bearing design with self-adjusting, two-piece jaws. It can accommodate a variety of nosepieces and different rivet sizes.
Cordless Blind Rivet Tools
Battery-powered blind rivet tools are gaining popularity because they can be used anywhere without having to drag around cumbersome pneumatic air hoses. They are particularly useful for repairs and field use situations in which you do not have enough space for the tool's setup.
Arconic offers the Huck-Makita Range Force (BV4500-118K2) and the Marson BT-2A (BA-M39480) battery-powered tools. The Huck Range Force is designed with an electrically adjustable pull force and a longer stroke, making it ideal for installing both structural and non-structural rivets. It comes with a Makita battery that delivers five hours of power, and the entire unit weighs less than five pounds, making it light enough for prolonged use. The Marson BT-2A is a cordless blind rivet tool with a pull capacity of 2,248, weighing in at only four pounds. It has a lithium-ion battery that delivers two hours of operation and can accommodate rivets from 3/32 inches to 3/16 inches, making it ideal for everything from construction and lighting to signs and truck trailers.
Stanley Engineered Fastening, another leading fastener manufacturer, offers the POP-Avdel ProSet PB2500, a high-speed cordless rivet tool that weighs less than four pounds with two hours of battery power. It features a quick-release nose housing, a rivet holding system, and slide battery installation to make it easy to change batteries.
From Gesipa, the latest cordless blind rivet tool is the Powerbird Pro Gold 4400 (part BA-7300003), an 18.5V tool that delivers more than two hours of use and weighs 4.4 pounds. It features an optional auto reverse function to shorten installation time and has virtually no wearing parts for a long life without service.
Pneumatic Blind Rivet Tools
Pneumatic powered blind rivet tools are commonly used in manufacturing, construction, and heavy-duty applications. Below are details about some of the newer tools.
Lobster of Japan offers the R1A2 (part BA-R1A2[A] US-LP), which is a high-powered, high-speed pneumatic riveter with a long, 26mm stroke. It features a built-in mandrel collector and a vacuum on/off switch that increases or decreases power. It is ideal for setting 3/16-inch and 1/4-inch rivets.
Stanley has the POP Avdel ProSet XT line of tools. These are high-performance pneumatic rivet tools designed with a high force-to-weight ratio, quick-disconnect nose housing and jaw housing, and integral exhaust valve for faster setting cycle times. The four ProSet units each have different performance profiles. The ProSet-XT1 is lightweight at 2.5 pounds with an 18mm stroke and a 5.55 kN/kg force-to-weight ratio. The ProSet XT2 is more versatile and can handle a wide range of breakstem rivets. The ProSet XT3 is nicknamed the High Performer and has a longer 26mm stroke for rivets, lockbolts, and sealing plugs of various sizes. The ProSet XT4 is the most powerful tool in the family with a pull force of 23.0 kN at 5.5 bar air pressure and a force-to-weight ratio of 10.65 kN/kg.
FAR offers the RAC181 (part BA-70A181), which has a stem collector and can handle steel rivets up to 3/16 inches, aluminum rivets up to 1/4 inches, and high-performance rivets up to 3/16 inches. It has a newly designed suction system so it requires less air pressure.
Finally, there are the Huck 2024 and 2024L long-stroke pneumatic rivet tools that have a 0.85-inch stroke and a 3.993 pull capacity at 90 PSI. These tools are made of hardened aluminum, so they only weigh 5.5 pounds.
These are just a few of the many blind rivet tools available on the market. If you need help matching the right tool to your job, contact one of our fastener experts for guidance. Also, be sure to download The Essential Guide to Blind Rivets to get a comprehensive overview on how blind rivets are beneficial for multiple industry applications.