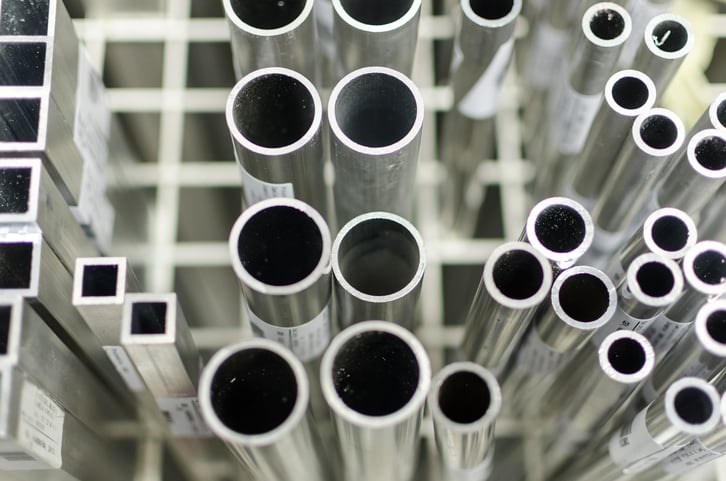 Metal price hikes, primarily caused by tariffs imposed by the Trump administration, have resulted in major headaches for American companies. How prices will be affected in the future remains uncertain.
The measures, designed to boost the American steel industry, resulted in an unfortunate side effect: Industries that relied on imported steel (as well as aluminum) were suddenly spending as much as 40 percent more for their raw materials. Furthermore, U.S. steelmakers weren't equipped to handle the instant extra demand, leaving manufacturers with few options to secure the metals they need for production.
Although some progress has been made in the ongoing trade war, the tariffs remain, which not only keeps metal prices high, but also results in retaliatory tariffs that have made American exports a tougher sell in foreign markets.
The impact of these tariffs has been felt across all types of industries, including these six:
1. Automotive
General Motors' recent announcement that it was laying off approximately 14,000 North American workers made headlines and brought the metal tariffs into sharper focus. Although there is some debate about whether to blame the tariffs or GM itself for the plant closings, reports peg the automaker's losses to rising metal costs at as much as $700 million. American automakers, as well as foreign automakers that operate assembly plants in the U.S., are struggling with the tariffs. Not only is the metal required to manufacture cars more expensive, but costs for parts are causing original equipment manufacturers (OEMs) to raise their prices.
2. Furniture
Increased costs of raw materials and the subsequent supply squeeze have challenged the furniture industry. This Curbed article details how one manufacturer that produces an all-aluminum chair has struggled with the tariffs on aluminum, and also says that price hikes are causing furniture makers to rethink long-term strategies. The double whammy in the industry is that China retaliated with tariffs on American goods, which means that some exported furniture may be more expensive in the Chinese market, potentially decreasing demand.
3. Construction
Steel and aluminum are essential in construction, including building materials and the metal parts necessary to hold those materials in place. When those costs rise, contractors either absorb the expenses and lose profits or pass the cost onto the consumer. Moreover, contractors aren't the only ones feeling the pinch; architects designing new construction and manufacturers producing goods to furnish those buildings may also feel repercussions of the tariffs.
4. Manufacturing
On Nov. 19, 33 manufacturing organizations sent a letter to U.S. trade officials that said the tariffs have caused "significant harm to manufacturers." Organizations attached to the letter are as varied as the U.S. Chamber of Commerce, the National Tooling and Machining Organization, the Grocery Manufacturers Association, and the Beer Institute. As with other industries, costs have risen and capacity from American metal producers has yet to catch up, resulting in a financial crisis for manufacturers across a multitude of industries.
5. Freight
With fewer overseas goods arriving in U.S. ports, as well as less domestic production of goods requiring metal, freight companies responsible for handling and delivering those goods are suffering. For example, longshoremen in Houston are seeing a drop in business because less steel, iron, and other manufactured goods are arriving in the Port of Houston—the country's main port for receiving steel. According to the Houston Chronicle, "the main categories affected by tariffs—which include pipe for drilling, rebar to reinforce concrete and coils that are unwound and then made into finished products—saw combined imports fall 9 percent to 5.5 million tons through the first nine months of this year, according to the Commerce Department." The trucking industry is also struggling, from increased costs to manufacture rigs to less freight to ship.
6. Fasteners
The Industrial Fasteners Institute was one of the authors of the letter sent to U.S. trade officials, and with good reason—the fastener industry has been hammered by metal price hikes. The impact on American nail manufacturers has been well-documented. Makers of rivets and other fasteners have weathered the storm, but they haven't had it easy. Raw materials are more expensive and/or are in scarce supply, resulting in production cutbacks. Demand from sectors affected by the tariffs has also dropped, thus applying even more pressure on fastener manufacturers to maintain their profit margins.
For businesses relying on fasteners for their operations, the crunch may mean that the parts you need will be more expensive in the short term. It also may mean that fasteners you normally use might not be available amid tighter production and reduced supply. Working with an outstanding distributor can help you navigate this crisis. Great partners will work with you to help keep your costs under control and also offer alternatives in case your preferred fasteners are unavailable. The future of metal prices might be unresolved, but a top-notch distributor provides some certainty in these uncertain times.