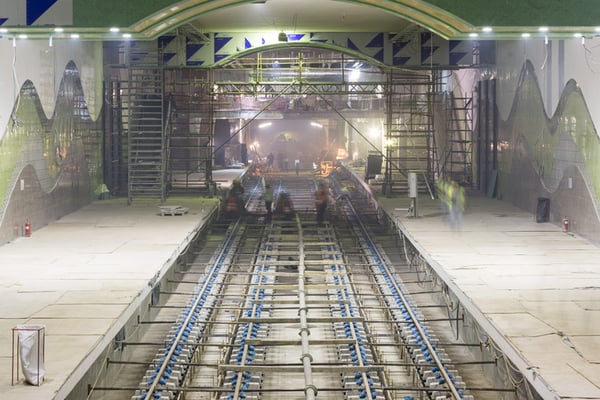 With all the fasteners currently available on the market, choosing the right one for the task at hand can be a challenge. There are times when you need a heavy-duty, industrial-strength fastener where welding won't work and regular fasteners just aren't up to the job. That's when it makes sense to use structural steel blind bolts for a lasting and secure solution.
Blind bolt fasteners have been used for more than a century and have proven themselves to be extremely valuable when you need to connect two workpieces but only have access to one side. Blind bolts also have the advantage of added tensile strength, and they are tamper-resistant. They are known to make a clean, lasting joint.
For even greater versatility, blind bolt fasteners come in different sizes, widths, and materials, including steel, aluminum, and plastic. However, you can't use just any blind bolt for any job. Even though blind bolts tend to make a stronger joint, they can still fail if you use the wrong bolt for the application.
Structural steel blind bolts are ideal for big jobs, such as construction, railway, mining, containers, renewable energy, and manufacturing of heavy machinery. The added strength of structural steel creates a lasting joint that won't wear out over time. More importantly, structural steel blind bolts are designed to withstand long periods of heavy vibrations, which are common with manufacturing equipment, transportation systems, and so on.
Structural steel blind bolts, like all blind bolts, are designed with a stem and a sleeve or collar. The bolt is inserted in a predrilled hole and installed using a tool that pulls the stem into the sleeve or collar, expanding the sleeve on the blind side to create a flare that makes a secure joint. The great thing about blind bolts is that they are easy to install using simple tools that require little or no training.
When choosing a fastener such as a structural steel bolt, it is important to ensure it is an exact fit to guarantee a secure joint. You need to match the bolt to the size of the hole and make sure the length grip range is sufficient to join the materials. To ensure you have the right fastener for the task, we use a range chart supplied by the manufacturer. Structural steel blind bolts also come in different strengths, so you should use the bolt maker's performance chart to make sure you have matched the strength of the bolt to the task.
Bay Supply has a wide variety of blind bolt fasteners, but for heavy-duty applications where you need a structural steel blind bolt, we generally recommend the Avdel Avbolt® or the Huck BOM.
The Avdel Avbolt®
The Avdel Avbolt® blind bolt is designed to deliver extra strength and secure assembly, but can be installed quickly. These blind bolts are manufactured to specific tolerances for consistency in assembly and performance. They are more permanent than a weld and will not loosen when properly installed.
The Avbolt can be installed using a handheld, high-performance tool engineered for durability and fast, consistent installation in seconds. Tools require no special training and many are battery-operated so they can be used anywhere.
Another advantage is the Avbolt's versatility. It is designed with wide grip capabilities so it suits joining materials with different thicknesses. These blind bolts are considered to be high performers with high tensile strength and durability usually only found with non-blind lockbolts, yet they are fast and easy to install.
The Huck BOM
The Huck BOM (blind, oversized, mechanically locked) is touted as one of the strongest fasteners on the market and is capable of doing the work of four ordinary fasteners. Huck's BOM structural blind bolt features a unique push-and-pull installation design for ultimate locking strength in a blind-side installation fastener. It is often used in applications where failure because of weakness or vibration is not an option, such as military vehicles, amusement park rides, mass transit equipment, and rail equipment.
The Huck BOM is easy to install—anyone can learn how to do it in 10 minutes. No skilled labor is required, and installations are extremely accurate, so there is no room for human error. It is also compatible with tools you likely already have, so no special equipment is required.
Huck's BOM installation systems and tools are designed to offer the highest levels of ergonomics, productivity, and long life. The Huck line of BOM installation tooling reflects the same level of innovation and quality as its advanced fasteners. Whether it's a Huck hydraulic tool employed in high-volume installation of large diameter BOM, or a smaller pneudraulic model used to install smaller diameter sizes, you can count on these tools to deliver the industry's best value.
If you're not sure which structural steel blind bolt is the best option for your next job, our team of experts is always available to answer your questions. We are committed to recommending the best tool for your job and ensuring you get a high-quality product.