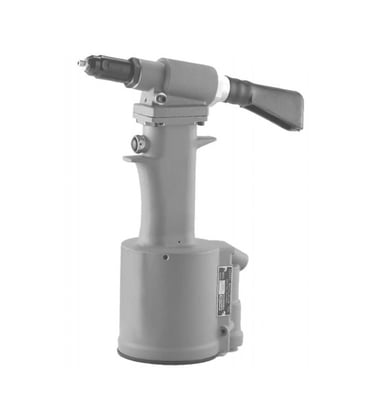 Time to check out the CHERRY® GHA-743 Power Riveter, proven heavy-duty workhorse ideal for tough truck/transit fastener jobs.
We at Bay Supply love return-to-success stories. For more than 60 years, Cherry tools have been specified and used by aerospace and industrial manufacturers and repair facilities throughout the world.
So it comes as no surprise that Bay Supply has a long history with Cherry. Bay is the premier master distributor of industrial pop rivets and fasteners and installation tools. Plus, Bay has been in business nearly as long as Cherry.
Cherry is again back in stock with Bay Supply
Now, after a hiatus from the industrial market due to a corporate repositioning, Cherry/SPS Fastener Division is back with an exclusive arrangement with Bay Supply. In fact, Bay Supply is again one of Cherry's largest distributors as well as a master service and warranty factory repair center.
Welcome the Cherry GHA-743, a Bay Supply Exclusive
How much do we like this Cherry riveter? Let's count the ways:
Pneumatic hydraulic tool engineered for heavy-duty truck/transit applications.
All-metal construction using the best high-strength materials for years of trouble free service.
A high-quality, rebuildable, investment-grade tool.
Still made in USA (Santa Ana, CA).
Superior quality for years of trouble-free service.
More than 50 years history partnering with Bay Supply – sales and service!
Features & Specifications:
Rated pull-load: 3,600 lbs. (16kN.)
Stroke: .750" (19mm)
Weight: 6.25 lbs. (2.84 kg.)
Easy priming system to replenish hydraulic fluid.
User serviceable.
Compatible with many blind rivets, including: All blind rivets (open and closed end), Structural Rivets (Monobolt, Magnalok, Hemlok, Q, T, Avinox, Multigrip, and HR/HS rivets), Cherrymate (Avdelmate) Mate rivets, Autobulb Rivets, and just about any other commercial blind rivet.
A true alternative to heavy, bulky tools
The Cherry GHA-743 has a high power-to-weight ratio, with a superb ergonomic design that reduces operator fatigue. Its extreme long stroke places rivets in one efficient motion. It can be operated in any position with one hand. Extended length, right angle and offset pulling heads, as well as extensions and adaptors, increase the capabilities of these pulling heads for use across different riveters and in limited access areas.
A mandrel catcher bag may be attached to eliminate costly cleanup.
Ultra-competitive pricing! Bay Supply offers quantity break discounts starting at as little as two pieces.
Bay Supply is well known as the "go to" company for rivets, threaded inserts, lockbolts, fasteners and related installation tools. Bay Supply also features a full line of cutting and tapping tools including automated tapping systems for speedy preparation of tapped holes. Bay's unparalleled experience and relationship with manufacturers like Cherry permits us to be sharply competitive with our pricing. Bay Supply is the one-stop resource that will save you time and money.
Engineering specifications, data sheets, tool manuals, instructional videos and manufacturer catalogs are all right here. If you have a question, give us a call and our engineers and technical advisers will have the answer.
Bay Supply will get you started with free ground shipping on domestic orders over $99 and complete online checkout for international orders from more than 200 countries.
Here's the link.
Servicing the Products We Sell
Bay Supply is a Factory-Authorized Repair Center for Cherry tools as well as all of the tools sold. We stand behind every transaction and will help keep those tools on the job!